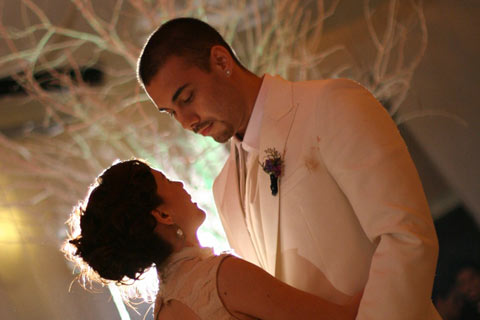 The excitement that most couples have as they plan their wedding must extend to when they begin their married life as well. As you begin to imagine the details of their wedding, you also start to think about what it would be like to live together as husband and wife. Fortunately, today's couples are prepared through seminars and talks, but nothing beats advice from those who are in the know such as married friends and relatives. Celebrity wife and mom Cheska Garcia-Kramer and her equally famous family--husband Doug and children Kendra, Scarlett and Gavin--are often in the spotlight as the epitome of a happy, healthy family. Here, Cheska shares her tips for smooth relationship.

Take care of yourself
As the old saying goes, you must love yourself first, before you can begin to love others. In order for you to take care of your husband and children, you must be well and healthy yourself. Cheska believes that wellness not only means a healthy body, but a healthy outlook on life as well. "Taking care of yourself helps you to feel good about yourself," she says. When you feel good, everyone around you notices--your husband, your kids--and this makes them feel good, too.

ADVERTISEMENT - CONTINUE READING BELOW
Give priority to your commitment
During your wedding, you will be exchanging vows and promises. Cheska reminds couples that the wedding vows set the tone for your life together. This is your commitment to one another to make the marriage work and not just words that are said on the wedding day and forgotten right after. "Always think of it as a lifetime partnership because marriage is a commitment. It is a choice (between you and your husband) to make your marriage work," she explains. "[The] kilig [factor] might be gone, but your commitment to each other remains and you should be true to that."
Be happy, beautiful and confident

The Kramer family is always a happy bunch, and Cheska shares that a happy, beautiful and confident relationship starts with you. "If you exude beauty and happiness, it will reflect in your relationship. If you are confident, you can do anything," says Cheska. "Being beautiful and confident is all in the attitude and depends on how you carry yourself," she adds. If you know yourself well, you can show more of yourself confidently and your family is sure to follow suit.

ADVERTISEMENT - CONTINUE READING BELOW
Recommended Videos
It's understandable to find married life a little daunting at first, and we definitely don't want to be "scarred for life" should we encounter a few bumps along the way--much as we don't want scars or flaws on our skin to make us feel less confident. Fortunately, there is an effective treatment like Contractubex that helps soften, flatten and reduce the redness of scars. When used three times a day for at least three months, it helps improve the appearance of scars. For a smooth married life, however, the answer is not in a tube, but from the confidence that both of you can make it work. Take it from Cheska Garcia-Kramer who proudly shares her happy marriage and family life.
Learn more about Contractubex through their Facebook page here.

Load More Stories