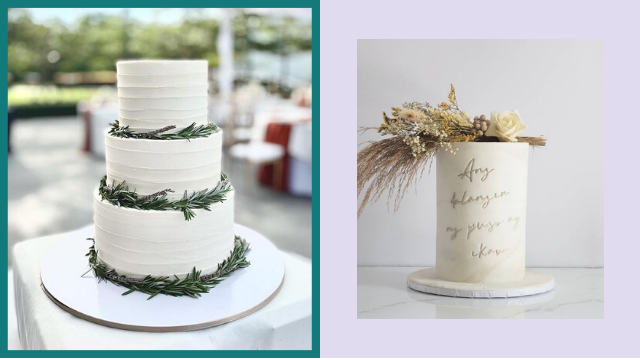 A cake is a must at any wedding. Cake slicing is an important portion of any wedding program, after all. It is the newlyweds' first task as a married couple, and it's something that's always featured in albums. This is why, if you're tying the knot soon, you better think of what you want in a wedding cake, too, and start checking out designs that will perfectly go well with your chosen motif or theme. And if you're considering something low-key but still radiates elegance, here are some simple wedding cakes you may like:  
ADVERTISEMENT - CONTINUE READING BELOW
Simple Yet Elegant Wedding Cake Designs
1. Rustic + Modern Filpiniana Wedding Cake by 
Miel Cake Design
This cake's pretty straightforward in terms of structure. It only has one tier and uses a bunch of dried flowers in muted colors as its ornament. Yet, it looks so sophisticated. But what makes it even more special is the inscription on it that says, "Ang kailangan ng puso ko ay ikaw." Romantic, isn't it?
2. Wedding Cake with Fresh Daisies and Dried Ruscus by
Ikea's Cakes and Pastries
Those who believe cakes with plain white frosting and minimal décor are boring probably haven't seen this particular creation of Ikea's Cakes and Pastries. It features a really simple design that puts a spotlight on what nature can offer in a subtle yet tasteful manner. Though the colors of the fresh daisies and dried Ruscus used on the cake are both very tamed, they are still able to add to the cake's overall charm.
ADVERTISEMENT - CONTINUE READING BELOW
3. Wedding Cake with Sugar Flowers by
Sabie Bakes
You may find it hard to believe at first, but the flowers that embellish this lovely cake are edible. They're handmade as well, so just imagine the level of artistry involved in the creation of this masterpiece. Notice how amazing the texture on the cake's first layer, too. It perfectly mimics the texture we usually see in luxury bags, and it effectively gives the cake an elegant feel.
ADVERTISEMENT - CONTINUE READING BELOW
4. Minimalist Wedding Cake with Dried Leaves and Edible Gold Sheets by
Isabel's Oven
What better way to make your wedding cake look more regal than to add gold sheets to it? In fact, they can be used alongside dried leaves and flowers. This combo may seem strange at first, but you'll realize that the gold sheets' extravagance goes so well with the subdued appearance the dried flowers create. 
ADVERTISEMENT - CONTINUE READING BELOW
This cake perfectly demonstrates how a textured finish can add character to a rather simple cake. Add handmade roses in baby pink and some leaves to the design and you have a classic-looking cake that oozes with elegance.
6. Wedding Cake with Flowers and Succulents by
Clara Dolce
ADVERTISEMENT - CONTINUE READING BELOW
Succulents are adored by many plantitas, and we totally understand why. They make for classy centerpieces! In case you haven't thought of it yet, you can elevate the look of your simple wedding cake by combining this well-loved plant with classic-looking blooms. Just take a look at this cake by Clara Dolce. 
7. Rustic + Romantic Wedding Cake with Blooms in Autumn Colors from
Lovelots Cakes
ADVERTISEMENT - CONTINUE READING BELOW
Autumn color palettes are so gorgeous, no wonder many people are so in love with them, even here in the Philippines where we don't have this season. If you are a fan of this season, too, and you're getting hitched soon, you may want to consider this design by Lovelots Cakes. Its textured yet very subtle all-white finish is a perfect contrast to its ornaments, which are flowers in vibrant Autumn hues. 
8. Minimalist Wedding Cake with Fresh Australian Rosemary and Fragrant Lavender by
Daniel's Bakeshop
ADVERTISEMENT - CONTINUE READING BELOW
This cake is a treat to the senses, not only because it's a sight to behold and the mouthwatering flavors it has but also because of the scent anyone who gets close to it can pick up. Well, it is adorned with fresh rosemary and lavender, so what do we expect? It's so unique, too, as it veers away from the usual things used to jazz up wedding cakes. 
9. Simple Wedding Cake with Baby's Breath Flowers by
Katt's Cakeshop
ADVERTISEMENT - CONTINUE READING BELOW
Baby's breath flowers are lovely, but they're usually not the main attraction in floral arrangements, particularly in those that feature exotic blooms. Unlike such creations, though, this wedding cake by Katt's Cakeshop highlights the beauty of these underrated flowers, even using them to form a delicate border around the simple yet meaningful inscription on the cake that reads, "finally," followed by the date of the couple's wedding. 
As they say, less is more. Definitely, it also applies to wedding cakes. As seen in these designs, one doesn't always have to choose towering cakes with elaborate details to exude elegance. After all, light hues and minimalist decors, when tastefully put together, can create chic designs that are just picture-perfect.
Load More Stories