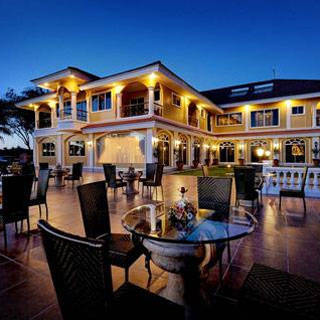 Each couple has a different personality, and their uniqueness dictates the tone, mood and even the location of their wedding. Some couples who want a carefree vibe at their event opt for a destination wedding. "One of the strengths of a destination wedding is that it's a longer celebration, [so there's] more time to enjoy both the resort and the company of loved ones. [Having a destination wedding] is one of the best ways to [gather] everyone in a vacation-- something that is usually hard to do with everyone's differing schedules," says Amanda Iliscupides of The Peacock Garden Luxury Resort and Spa in Bohol.
A number of destination weddings are held in picturesque resorts. If you're thinking of exchanging I do's with your fiancé at a vacation spot, remember that there are several factors you have to consider, which Amanda shares below.
Space and Accommodations
Always keep your total number of guests in mind before finalizing a booking with a resort. You should do a proper first-hand survey of the resort to determine if its ceremony and reception areas have ample space to accommodate everyone. Also consider additional spaces that you might require, like a stage for your band, or areas for your catering needs like a mobile bar or a kitchen.
ADVERTISEMENT - CONTINUE READING BELOW
Since having a destination wedding would often mean providing lodging for your guests, you must also check the number of rooms or cottages that the resort can block off for your wedding party. Check the facilities in each room and the amenities of the resort to see if it is at par with your idea of comfort and convenience.
Peak and Lean Seasons
Ask the staff for the resort's peak and lean seasons, as that would help you envision what to expect on your wedding day. If you choose a date within their peak season, remember to inquire about the measures they can take to keep the solemnity and exclusivity of your event. Also check if they have special packages , especially on lean seasons.
Accessibility
Take note of the road leading to the resort when you do your ocular inspection. Also check the possible modes of transportation and routes for detour in case of heavy traffic. Ideally, the resort should have signs that are easy to spot, so that visitors can find the place on their own. Your guests will literally go the extra mile just to witness your special day, but it would be far too taxing for them to travel on bad roads with hard-to-find landmarks on the way to your wedding. Moreover, some of your guests might travel just on the day of your wedding, so knowing the travel time and traffic would allow you to inform them of the best time of departure.
ADVERTISEMENT - CONTINUE READING BELOW
Recommended Videos
If the resort isn't exactly easy to find, you can include detailed maps in your invitations. Another alternative is to assign a point person who'll meet up with guests on the way to the resort.
Ambiance and Environment
One of the reasons you considered a resort venue is to treat your guests to a vacation. With that, make sure that the resort can provide a calming atmosphere for you and your wedding guests. Also, choose a resort that filters out noise from the road and other nearby establishments. The last thing you want is noise interrupting your supposedly solemn ceremony.
Resort's customer service and track record
Impeccable customer service goes a long way--it lessens the stress for you and your coordinator, and you're assured that your guests will be really taken care of. "Your experience will be best enhanced by people who take hospitality seriously, and who can pay attention to everyone's needs throughout the entire stay," Amanda shares.
ADVERTISEMENT - CONTINUE READING BELOW
Asking relatives and friends for suggestions and checking the Internet for reviews on the resorts in your shortlist can immensely help you in choosing a good resort. "Weddings are both a personal and a shared experience, because [not only is it] about you and your partner, [but] it's also about who you decide to celebrate the occasion with," says Amanda.
Activities for Your Guests
One advantage of hosting a destination wedding in a resort are the activities that they offer prior to and after the wedding. "Find a destination with lots of [activities]: spa sessions, tours, or outdoor activities for you and your guests to ensure a great time for everyone," says Amanda. There are so many possibilities, and you can plan each activity with the resort's staff.
Amanda adds, "Planning a destination wedding can be stress and hassle-free if you are in contact with the resort and/or a local planner to take care of all the arrangements for the event. Aside from your ceremony and reception, an entire wedding weekend can be planned--[you can include an] optional engagement dinner where you casually introduce guests of your wedding to each other, a spa party for the girls, a boys-night-in with card games and happy hour, and even an after-party. [You can do away with the hassle of] dealing with multiple establishments for each part of the occasion, speaking with many different suppliers, and shuttling between different places."
ADVERTISEMENT - CONTINUE READING BELOW
Architecture
There are a lot of picturesque resorts, but not every one would be ideal for your wedding. A resort with opulent architecture might not go well with a laid-back affair, in the same way that a resort with stark décor might not suit a classic and traditional celebration. As you shop around for your venue, think of how the structures complement the size of your wedding, the theme, and most importantly, your personalities.
"Weddings reflect the couple's personality, and [ideally], the choice of resort should do so too. Whatever tastes and preferences the couple has, the ideal resort should be a venue for them to express who they are and what they envision as a memorable start to their lives," says Amanda.
To check out The Peacock Garden Luxury Resort and Spa's listing, click here.

Load More Stories