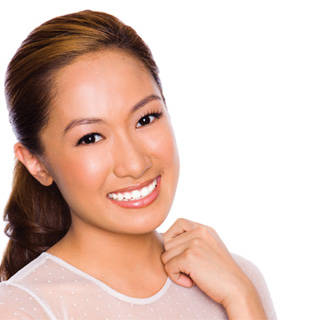 We all want to be able to flash pearly white teeth, more so on special occasions that are bound to be immortalized in photographs. Your wedding day is one of those occasions where a beautiful smile completes the bridal look.

Brides invest a lot of time, effort, and money in preparing for the various aspects of their wedding, so why not invest in a healthy, happy smile as well?
If you've been putting off dental treatments, now  is the right time to seek consultation on how best to achieve healthy teeth and gums.

We sat down with the experts from Asian Base Dental Group to ask about common dental procedures brides (and grooms) can consider as part of their wedding preparations.
What cosmetic dental procedures would you recommend to brides and grooms who are looking to improve their smile or teeth just in time for their wedding?
We recommend having their teeth whitened so they can have that full bright smile. At our clinic, we use whitening solution and laser to achieve beautiful white teeth. We can also recommend the use of ceramic brackets which they would need if they want to have straighter teeth.
ADVERTISEMENT - CONTINUE READING BELOW
CONTINUE READING BELOW
Recommended Videos
How soon before the wedding should the bride or groom consider having any dental procedures done?
For teeth whitening, it is always recommended to schedule the procedure at least one to two months before the wedding. However, for orthodontic procedures such as having their teeth straightened, we recommend that the procedure be scheduled 6 months to 1 year before the wedding. This will give the patient enough time to heal and adjust (for example, some treatments may affect how the patient eats or speaks for a little while after the procedure), plus it also gives the dentists enough time to address any post-treatment issues should they arise.

What should the patient do or avoid in preparation for, and even after the procedure?

We normally evaluate our patients first. They need to be in good dental health - meaning, no problems with their teeth or gums. Otherwise, the treatment may not work. We also find out the activities and lifestyle of the patient so we can assess if there are any food or medication that should not be taken.
ADVERTISEMENT - CONTINUE READING BELOW
After the procedure, we usually advise patients regarding what food they can consume such as oatmeal, white bread, and milk.

How long do the procedures take? Do they require follow-up visits or treatments?
A whitening treatment would take one to two hours, and only requires one visit.
How safe are the procedures?
Procedures are safe; we only use the best dental products for our patients. All of our dentists are required to wear a mask, hairnet, and gloves so the dentists and the patients are protected.
How can the bride or groom maintain her or his smile or teeth after the procedure, and after the wedding?
The bride and groom is advised to avoid food that can stain their teeth such as coffee and wine and to avoid smoking as this can cause yellowing in teeth. The best maintenance is regular brushing. Don't forget to see your dentist regularly so they can check on your teeth and can recommend if follow-up treatments should be done.
ADVERTISEMENT - CONTINUE READING BELOW
For more information on Asian Base Dental Group, view their supplier listing here.

Comments
Load More Stories