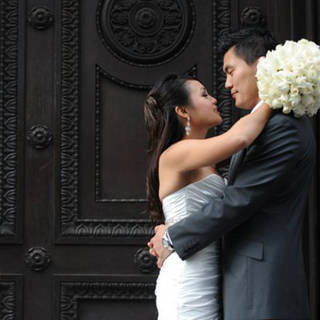 Imagine a relaxed ambience where couples can leisurely go around and get to know the wedding industry's top suppliers and key players. This is the vision behind the "We're Engaged!" bridal fair on October 20-21, 2012 at the Philippine International Convention Center (PICC).
The bridal fair, organized by CCG Expo and Fairs, aims to make wedding planning an enjoyable, stress-free journey for soon-to-weds. From the dreamy photos used in their visual materials to the clean, clutter-free venue layout and booth design, couples can expect an air of romantic elegance as they put together their dream team of photographers, videographers, gown designers, hair and makeup artists, caterers, florists, and other wedding suppliers and partners.
Aside from the right mix of suppliers, the bridal fair will also feature informative and educational video modules of wedding planning and marriage requirements as well as an activity center where couples can join fun, interactive sessions. Wedding singers and string quartets will also take center stage and serenade the couples to showcase their talent. 

The philosophy behind the "We're Engaged!" bridal fair summarizes the organizer's promise and what one can expect from the event: "We take care of your wedding needs, we take care of your bridal business." 

The team's aggressive marketing campaign, which makes use of eye-catching online banners and print ads, also capitalizes on social media. This is to ensure a good turnout of couples, which in turn means multiple bookings for their exhibitors. "We want to make sure that we not only get a big crowd, but the right crowd!" shares Carlos Guiang of CCG Expo and Fairs.

ADVERTISEMENT - CONTINUE READING BELOW
The whole concept behind the fair and its pocket activities is for couples to see and experience what the different suppliers have to offer as well as learn about their style and see if it gels with their own personality. "Meeting your wedding supplier is like meeting the person you are to marry," says Carlos. "You have to share the same vision and plan to make it all happen, in this case, to make your dream wedding come true!"
To register for free admission to the event, visit www.ourweddingphilippines.com.

To inquire about available booth spaces, email info@ourweddingphilippines.com.
To learn more about CCG Expo and Fairs, view their listing here.
Comments
Load More Stories