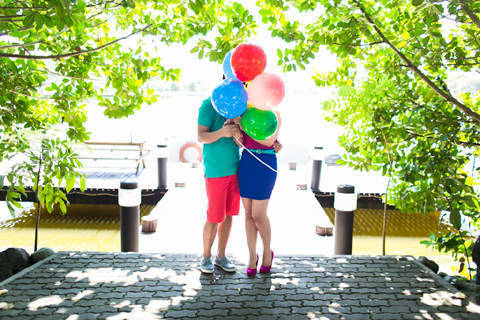 Your wedding photos will be immortalizing memories of your big day, which is why you should put much thought in choosing a photographer. While it's understandable that most couples think of their budget first, also remember to consider your photographer's style when choosing your wedding photographer. If you're a romantic, for example, pick a photographer that takes dreamy photos. Really Awesome Weddings (R.A.W) is known for that style, and they offer reasonable packages for weddings, too.
The R.A.W. Siena package is their service only package. At PhP50,000, it includes the labor of main photographer Puy Talde and two additional R.A.W. photographers. The package also features unlimited shots of your wedding and high-resolution photos in a DVD. Moreover, you can also show photos of your wedding at your reception with a one-song audio-visual presentation (AVP) to be prepared by RAW.
The R.A.W. Belize package, on the other hand, offers all the inclusions in R.A.W. Siena, plus a 10"x10" standard wedding album. The package costs PhP70,000.
ADVERTISEMENT - CONTINUE READING BELOW
CONTINUE READING BELOW
Recommended Videos
If you'd like to have R.A.W.'s most awesome package, you can choose the R.A.W. Versailles package. The package features all the inclusions in R.A.W. Siena, 200 artist's choice 4R prints, and a 40-page 12" x 12" wedding album. You can get all these offerings for PhP85,000.
R.A.W. also offers a prenuptial shoot package. The R.A.W. Prenup Shoot package includes a four-hour prenuptial shoot, high-resolution photos in a DVD, and a one-song AVP of the prenup photos. When availed together with any of the wedding packages, the prenup package costs PhP15,000. When booked on its own, it costs PhP20,000.
To know more about Really Awesome Weddings and their packages, see their supplier listing here.
Comments
Load More Stories