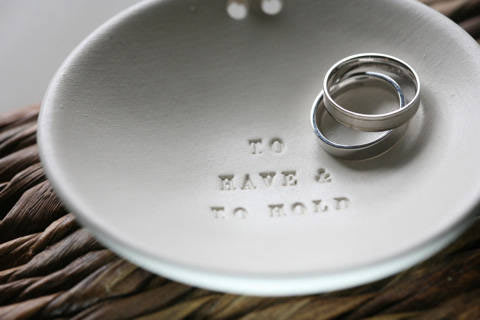 As you and your husband-to-be start shopping around for wedding rings, you will most definitely keep in mind the aesthetic, quality, and cost of the rings - after all, they will be the most important investment that both of you will begin with.
As you take note of the basics of jewelry and diamonds, such as 4 Cs - cut, color, clarity, and carat weight - here are other things to clarify with your wedding ring supplier:
Do you have packages for engagement rings and wedding rings?
If your fiancé is yet to buy your engagement ring, ask if they have packages for both the engagement ring and your wedding ring. Or, if your engagement ring was purchased from the same jeweler or supplier, ask if they can extend a discount on your wedding rings as well.

Is there a cost for engraving and re-sizing wedding rings?
These services are usually included in the cost of the wedding rings, but go ahead and confirm that there are no extra charges just to be sure. Some suppliers may charge extra for unusually long engravings, or engraving special symbols or characters.
ADVERTISEMENT - CONTINUE READING BELOW
How long will the engraving and re-sizing take?
You'll want to make sure that you'll get your rings in time for the ceremony so bear in mind that these services may take time, especially during peak seasons wherein suppliers accommodate more than the usual number of marrying couples. Ask them how long it will take to engrave and re-size your rings and be sure to add leeway just in case there are some miscalculations.
Do you customize wedding rings?

Jewelers will already have several different styles and designs of wedding rings to choose from, but should you decide to design your own, check with your supplier regarding the scope of work and cost it will entail. Another option is to ask if they customize their existing designs such as changing the finish, for example, or adding a filigree.
Do our wedding rings have to match?
Most wedding rings are sold in pairs, either in matching designs or designs that complement each other. However, in the event that you both are looking at rings from different sets, ask if the rings are priced separately and if you can purchase only one of the pair. 

ADVERTISEMENT - CONTINUE READING BELOW
What freebies or extras do you provide?
Don't hesitate to ask what your wedding supplier can throw in. Some of them give away ring pillows and matching arrhae when you purchase a pair of wedding rings.
Do you have a lifetime warranty or service?
Ask your wedding supplier if they offer a lifetime warranty on the rings, and if they will service them for free or for a fee even after the wedding for, say, regular ring cleanings or re-setting should the stones come loose or fall off.
What are the payment terms?
As always, go ahead and negotiate flexible payment terms with your wedding supplier. Ask how much are they expecting as downpayment, if you can pay in installments, and what form of payment they accept - cash, personal or manager's cheques, or via credit card.
To find wedding ring suppliers and view their wedding ring designs, check out our directory listings here.

Comments
Load More Stories