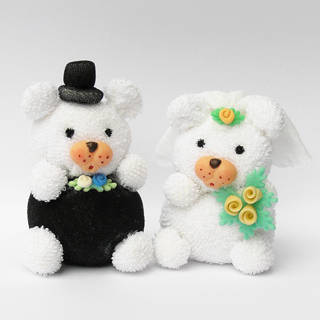 In the Philippines, giving out souvenirs is part of the time-honored wedding practices. Favors not only serve as tokens of gratitude, but they also help guests have pleasant memories of your big day.
If you'll give out wedding favors, remember to ask your prospective supplier these questions.

1. Can you customize the souvenirs?
Most couples take time to find the perfect souvenirs, but for those with special wedding themes, finding favors can be trickier. Customizing can involve asking the supplier to tweak their existing product (i.e. asking a supplier to produce pink candles when they usually produce blue) or asking them to make new products that are related to their craft (i.e. asking a bag maker to produce leather bag tags).
If you have particular souvenirs in mind, let your prospective know about your ideas so they can determine if they can deliver your requirements. Don't hesitate to ask for mock-up executions just so your expectations are aligned.
ADVERTISEMENT - CONTINUE READING BELOW
2. What's the minimum number of orders?
Most suppliers sell souvenirs by bulk, especially if their service involves customizing their tools to suit your design. For example, if you'll ask your supplier to make print-screened canvas bags, they would have to make stencils for your design. Since they'll go through that trouble, they'll impose a minimum of 50 orders to compensate for the added effort.
CONTINUE READING BELOW
Recommended Videos
Ordering by bulk shouldn't pose a problem if you'll have a large wedding. However, if you're thinking of ordering only a few souvenirs, the price per piece may be more expensive, or your suppliers might not be accommodate your request at all.
3. Do you give discounts for bulk orders?
As mentioned above, most souvenirs are sold by bulk--and you can use this practice to your advantage. Ask your supplier if s/he can give discounts. In some cases, the more items that you order, the bigger discount you'll get.
ADVERTISEMENT - CONTINUE READING BELOW
4. How will the souvenirs be packaged?
A simple token becomes even more special when it's wrapped nicely. Ask your supplier about the souvenirs' packaging--they might be able to customize packaging according to your wedding palette.
Some souvenirs come in boxes or bags, so you don't have to worry about wrapping them. Other favors may be sold at cheap prices, but they don't come in boxes or bags, and so you'll have to allot time and money for packaging your favors.
5. Where's the factory?
In most cases, going to the source allows you to avail of cheaper prices. For example, if you see an item you like in a mall or bazaar, the price has been marked up to accommodate the seller's profit and other operating expenses like rent. However, if you go directly to the supplier of the item, s/he may be able to give you a better price if you order in bulk since their operating expenses in the factory are cheaper.
ADVERTISEMENT - CONTINUE READING BELOW
6. How much time will you need to complete my order?
Not all souvenirs are not readily available--some may still need to be produced or ordered from a warehouse. Your souvenirs should be available on your big day, so you have to make sure that your supplier can meet your deadline. It's best to scout for possible suppliers as soon as you have ideas for possible favors to give your supplier ample time to meet your needs.

7. How long will the favors keep?
These days, a lot of couples opt for edible favors, since these are practical and fool-proof. If you'll be ordering edible treats in bulk, your supplier will need to make them days or even weeks in advance. Make sure that the favors will still be good to eat on the day of--or even days after--the wedding. You can also ask your supplier to prepare labels with simple instructions (i.e. Please refrigerate immediately) to help guests out.
ADVERTISEMENT - CONTINUE READING BELOW
To see listings of suppliers for souvenirs, click here.

You may also want to check:

Load More Stories