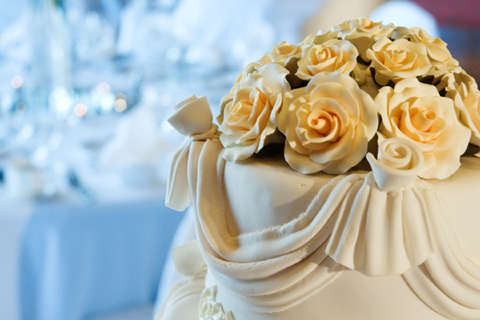 Among the traditions that has remained in wedding programs--even in modern celebrations--is the cake-cutting ceremony. Not only does the gesture symbolizes a sweet beginning for you, but it also marks the first meal you share together as husband and wife.
To help you pick the perfect wedding cake to suit your personality and chosen theme, remember to ask your cake maker the questions below.
1. What cake flavors, icings, and fillings can I choose from?
A cake shouldn't just be pretty--it should taste good, too. While you might already have preferences, your cake maker should also be able to make suggestions on mixing different cake flavors, icings, and fillings. Also, some cakes, like chiffon, can't support the weight of a heavy icing like fondant, so do ask about their recommended pairings.
2. When can we schedule the tasting session?
The best way to evaluate your cake maker is by scheduling a tasting session at their shop. This way, you'll get a better idea of what your supplier can offer, and you can ask them to tweak the flavors according to your preference. A tasting session at the shop also allows you to see your supplier's workspace. After all, you surely want to make sure that your cake will come from a clean environment.
ADVERTISEMENT - CONTINUE READING BELOW
3. How many layers will be edible?
While towering cakes are in vogue in modern weddings, having an all-edible cake can be costly. Moreover, some cake designs cannot have all-edible layers, since the cake may not be able to support the upper layers. In most cases, only the bottom layer of a tiered cake is edible, but do ask your cake maker just to be sure. Also, inquire about the height of the edible layer so you have a better idea of the serving size.
4. What type of cake will suit my venue?
Your chosen venue may dictate the type of cake that you should serve at the reception. Some icings, like buttercream, react to humid conditions, and so it's best used for weddings in air-conditioned spaces. On the other hand, a firm icing like fondant can withstand humidity, and so it can be used for both indoor and outdoor weddings. Moreover, your cake's size should complement the size of your reception venue. A small cake looks underwhelming in a large venue, while a large cake dwarfs a small space. Tell your supplier about your wedding venue so that s/he can make suggestions.
ADVERTISEMENT - CONTINUE READING BELOW
5. Can you customize the cake?
For most couples, a traditional white wedding cake is the best choice. However, you might want a special confection that complements your palette or even your theme. Ask your cake maker if s/he can customize a cake especially for your wedding. Colored icing, fresh flowers, or personalized toppers are just some of the details you may incorporate to make your cake special. Prepare pegs to communicate your ideas better--this way, you and your supplier can be on the same page.
6. What is your recommended cake size for my number of guests?
After watching you cut the cake, some guests might want their own slice of the cake, too. Ask your supplier about the appropriate cake size with your number of guests in mind. Some couples opt to serve sheet cakes--which are simpler versions of their cutting cake--to cut costs. Also keep in mind that richer cakes may come in smaller servings, while light ones may be served in bigger slices.

ADVERTISEMENT - CONTINUE READING BELOW
7. Will the cake be delivered to the reception venue?
Your chosen cake can be an elaborate creation, and you want to make sure that it will arrive at your reception venue in its original state. Your cake supplier is the best person to ask regarding transporting the cake from point A to point B. Most cake makers offer free delivery if you fulfill the minimum amount. Some deliver for a fee, and some others still deliver only within Metro Manila. Check with your supplier about the delivery options for your ordered cake.
To see listings for cake suppliers, click here.
You might also want to check:
Comments
Load More Stories