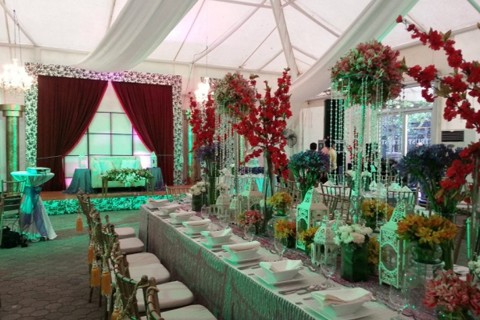 Couples, nowadays, look for practical solutions for their big day. They go far and wide in search of bridal packages that suit their theme and budget.
Duncan Sounds and Lights Rental is an established music and sound company that offers an array of services perfect for weddings. Among the services they offer are mood lighting, event venue styling, photo and video coverage, photo booth, and rentals of LCD projectors, LED walls, generator sets, and tents.
This one-stop party provider has been in the industry since 1996. Cherry Duncan shares, "My husband was a member of 89 DMZ, and was playing Mobile Mix slots at the station. It started out as a hobby for him, until it eventually developed into a passion. That is the reason why for the past 16 years, though competition in the industry is tough, we managed to survive. His passion kept our business afloat."
This versatile company entered the bridal industry to bring couples' dream weddings to life. According to the husband-and-wife tandem, they enjoy the challenge of pulling off a successful once-in-a-lifetime event with every means that they have. Cherry adds, "We strive to make every wedding as special as possible. We make sure that our staff are well-oriented and that they exert extra effort in each event we service."
ADVERTISEMENT - CONTINUE READING BELOW
CONTINUE READING BELOW
Recommended Videos
To make each celebration unique and memorable, Duncan Sounds and Lights Rental employ the couples' tastes and preferences in every detail. They help couples personalize their big day by incorporating their favorite things in the set up.
But what sets this team apart from their competitors is their love for their couples. They believe that every couple deserves to get their happily-ever-after, so they've tailored an array of packages to accommodate a wide range of budgets. Truly, in the years to come, we can expect more great things from this talented company whose passion has changed lives, one couple at a time.
To learn more about Duncan Sounds and Lights Rental, click here.
Load More Stories