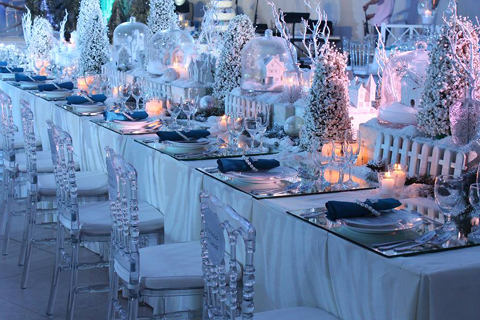 The venue for your wedding reception is among the most important elements of your celebration. These days, soon-to-be-weds are getting bolder and more creative with their wedding's concept. Some opt for dreamy affairs inspired by fairy tales, while others go for modern fetes with sleek details.

Themed weddings are now a normal practice for brides and grooms on their big day. Choosing a wedding theme not only allows you to channel your and your groom's personalities, but doing so makes it easier for you to pull together cohesive elements that paint a pretty picture.

No matter what theme you choose to have at your wedding, the spaces at The Blue Leaf Events Pavilion in Taguig and The Blue Leaf Filipinas in ASEANA City will surely suit the needs of your once-in-a-lifetime celebration. Both venues feature classic interiors that may be easily dressed up according to your theme, much like a blank canvas waiting to be painted on.

The Blue Leaf Events Pavilion's three halls--Banyan, Jade, and Silk--all feature unfussy spaces. The high ceilings may be left bare or dressed up with drapes for a sleek or opulent wedding. The rooms also feature large picture windows, which let natural light in and give you a view of the green outdoors. The walls, with its clean wooden details, are great canvases for colorful backdrops and other décor. To complete the ambiance, you may also bring in ambient lighting that will add warmth to the spaces.

Subtle Filipino-inspired elements make weddings at The Blue Leaf Filipinas even more special. The three halls--Sinulog, Pahiyas, and Pintados--effortlessly complement weddings with a Filipino flair. However, the rooms' refreshing mix of traditional and modern elements allows the rooms to complement other wedding themes, too. Wooden ceilings and wall panels give charm to the spaces, while large windows and interesting light fixtures keep the halls from looking like just any other wedding space.

ADVERTISEMENT - CONTINUE READING BELOW
To help you visualize your own wedding at The Blue Leaf, see our gallery below.

Ready to plan your themed wedding at The Blue Leaf? Click here for their contact details.
Comments
Load More Stories