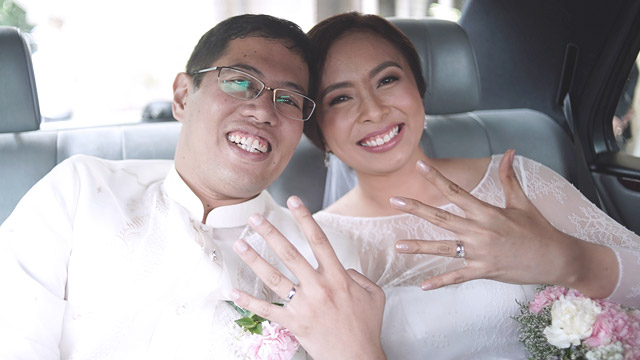 I just got married recently and wedding planning was a roller coaster of emotions. It was exciting because I got to host a party and the details were all up to me and my then-fiancé, but it was also overwhelming because of all the options and the expenses--cash just kept flowing out! Weddings, nowadays, are not as simple as ceremony and reception. There are a lot of things in between, and it sometimes got exasperating because we couldn't get everything that we had in mind, either because it was not available locally or it was too expensive. For my husband and I, it was a challenge to get creative while still capturing the essence of what we envisioned for our big day.
ADVERTISEMENT - CONTINUE READING BELOW
Our toughest burden was managing the costs. Weddings, regardless of how simple they are, do not come cheap. It can be a tough balancing act between a "you-only-get-married-once" and a "you-want-to-have-more-after-the-wedding" attitude, so if you're planning your own walk down the aisle, here are a five money tips that worked for us, which will hopefully help you make the right choices.
List your non-negotiables.
Like finding "The One," you have several qualities that are considered deal-breakers if not met. It can be the church, the wedding date, the reception venue and styling, the wedding attire, or the food. If you're still feeling conflicted because you want everything, consider all the weddings and events you've attended. What did you love about them? What did you dislike? What were the things you did not see but hope to have in your own wedding? These might help you zero in on your non-negotiables.
You and your fiancé should agree on at least your top three to five non-negotiables, and plan around those decisions for your next steps.
Set a budget, but make it flexible to absorb some setbacks.
A budget will help you curb unnecessary spending (I tell you there are a lot of "I-want-that-but-I-don't-really-need-it" moments).Set a maximum amount that you can still afford to cover and a minimum to ensure that it is still the quality that you desire. Pro-tip: Do not compromise on quality. Really.
Now, imagine your wedding budget as a pie that you need to slice and each slice represents a supplier's share of the cost. Consider the proportion of costs with one another—wedding dress versus caterer, styling versus venue rental. Generally, non-negotiables take a bigger slice of the pie.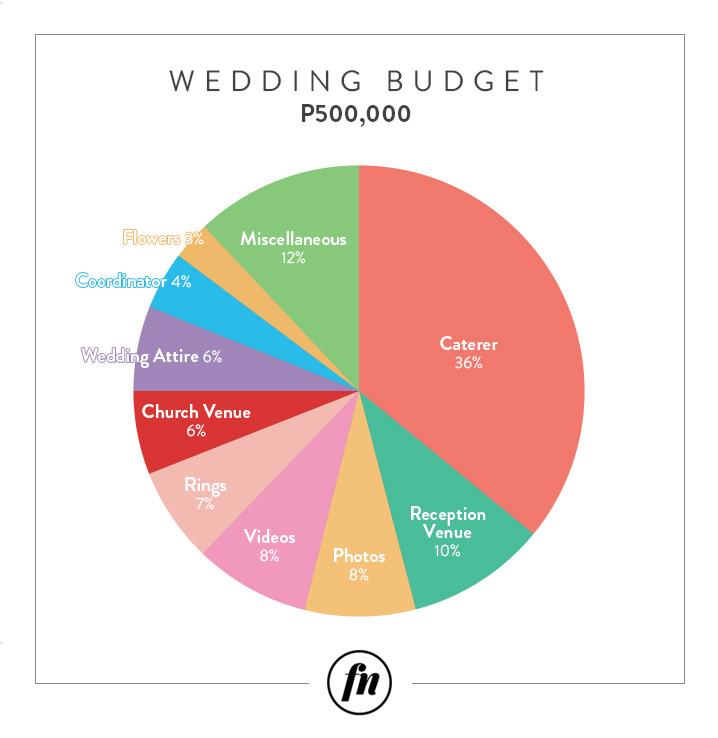 ADVERTISEMENT - CONTINUE READING BELOW
Remember to have a buffer in your budget, as costs usually go up because of unexpected occurences such as venue rental extension fees and emergency transportation.
Do your research in more than one platform.
Research can be done in many ways. Ask recently-married friends or family members for recommendations and tips, and observe actual weddings (they can be a good source of possible suppliers). Join online forums or groups that provide valuable resources for brides-to-be (and husbands-to-be) where you can get supplier reviews, insights, and even a support group during stressful wedding preparations. You may also attend wedding fairs, read magazines–print and online, and search for honest reviews.
Research will allow you to know your options and compare costs. However, temper it with Tips #1 and #2 because having a lot of choices can be overwhelming.
Talk with prospective suppliers.
By interacting with your suppliers, you can get a feel of how your working relationship will be. You have to build good rapport as they will be your partners for your Big Day. Be honest about what you like and don't like. Be transparent about your budget, as this will allow you to negotiate costs. Listen to suggestions and politely give feedback. 
ADVERTISEMENT - CONTINUE READING BELOW
Go the DIY route.
DIY projects are a great way to save money as well as a way to add personal touches to your wedding. For example, having your invitation designed and printed by a supplier can cost you P15,000, but if you keep it simple by designing and printing your own invitations, the cost can go down to P2,000. That's savings that you can spend elsewhere. If you have a nice location in mind and you're fine with multi-tasking, you may opt to do a DIY prenup shoot with a tripod and a remote for your camera. The list of DIY projects are endless and most of them have step-by-step videos online.
And remember, you need not do it alone. Involve friends and family. It can be a great bonding experience.
To get you started, here's a tutorial you can check out:
* Pamela Lloren is a Certified Public Accountant who formerly taught accounting and finance subjects at the University of the Philippines. She is currently taking up her Ph.D. in Business Administration.
ADVERTISEMENT - CONTINUE READING BELOW
Load More Stories