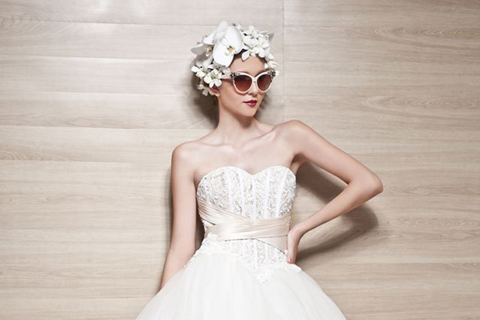 Looking for a wedding gown supplier tops any bride's wedding to-do list. Wearing a beautiful dress on the special day you marry the love of your life is surely something that you have long dreamed of.
Having the dress of your dreams can easily come true with BridalBook's extensive directory of gown designers and bridal boutiques. Browse through the list below and see who can make your bridal gown fantasies a reality.
Rosalyn Lagdameo
Rosalyn Lagdameo creates timeless wedding attires that appeal to different kinds of brides. Aside from wedding dresses, she also makes suits and gowns for the entourage.
Tammy Tan
Tammy Tan is a wedding gown designer, whose goal is to create timeless gowns that will express her brides' unique beauty and personality. Most of her inspiration comes from her hometown, Puerto Princesa, Palawan.
Dotie Diaz
Dotie Diaz presents brides with wedding gowns that span both modern and classic styles. Her creations often look ethereal, which are ideal for outdoor affairs, such as beach or garden weddings.
ADVERTISEMENT - CONTINUE READING BELOW
Saab Fashion House
Headed by Hana Saab Tomacruz, Saab Fashion House produces timeless wedding dresses coupled with personalized customer service. She aims to create bridal gowns that will inspire her brides to look and feel their most beautiful on their big day.
CONTINUE READING BELOW
Recommended Videos

Zandra Lim
Zandra Lim creates couture-grade wedding gowns with an aura of classic elegance, allure, and a sophistication. Zandra's passion for artistry, attention to detail, and quality workmanship allow her to gift her brides with the wedding gown of their dreams.
ADVERTISEMENT - CONTINUE READING BELOW
Jamie Go
This young designer presents brides with one-of-a-kind wedding dresses with a feminine yet minimalist style. Aside from her craftsmanship, Jamie is also well loved by her clients for her warm personality, which allows her to develop close relationships with them.

Mara Chua
The Bride by Mara Chua works on a philosophy based on individuality and uniqueness. As a designer, Mara believes that every bride should be able to enjoy a one-of-a-kind wedding gown that perfectly fits her personality.
ADVERTISEMENT - CONTINUE READING BELOW

Mak Tumang
As a designer, Mak Tumang is greatly influenced by his background in historical costumes and ornaments. With his rich source of inspiration, Mak's bridal creations exhibit an air of elegance and opulence with their elaborate details.

Atelier Debbie Co
Debbie Co's bridal creations spell elegance and timelessness. As a designer, Debbie's works are remarkable for their feminine details and modern cuts.
ADVERTISEMENT - CONTINUE READING BELOW

Ness & Co.
Ness & Co. Bridal Boutique houses stylish budget-friendly ready-to-wear (RTW) bridal gowns. They carry a variety of styles that cater to the modern bride.

Rosa Clara
Rosa Clara, one of the world's leading bridal fashion houses, presents Pinay brides with sophisticated RTW wedding gowns. The bridal boutique located at Greenbelt, Makati houses a wide range of off-the-rack Spanish-made wedding gowns for different kinds of brides.
ADVERTISEMENT - CONTINUE READING BELOW

Claiza Bihasa
For brides who want to exude modern sophistication on their big day, Claiza Bihasa is a fitting choice for a gown designer. Her creations showcase timeless designs, feminine yet tailored details, which represent Claiza's personal design aesthetics.

Jo Rubio
Jo Rubio creates wedding dresses that suit his clients' body type and reflect their unique personalities. He makes sure that every gown he designs is close to his bride's heart by taking inspiration from their best attributes and one-of-a-kind love story.
ADVERTISEMENT - CONTINUE READING BELOW

Mi Sueno Bridal Boutique
This premier bridal boutique presents Pinay brides with the certainty of true love through their line of stylish ready-to-wear gowns from renowned Spanish bridal fashion house, Pronovias. Mi Sueno carries a variety of designs to cater to different kinds of brides.

White Label Bridal
White Label Bridal carries a wide selection of off-the-rack wedding gowns for stylish brides on a budget. The boutique aims to help brides find their dream wedding dress, minus the stress.
ADVERTISEMENT - CONTINUE READING BELOW

Love,
The BridalBook Team

Comments
Load More Stories