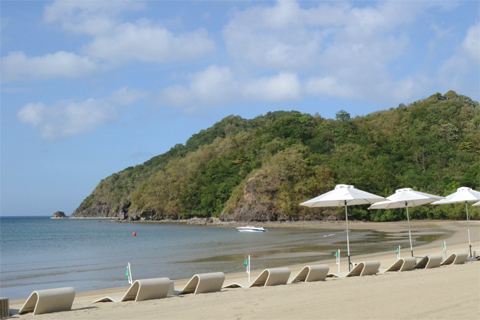 Planning a wedding is a big undertaking for most brides and grooms, which is why couples look forward to their honeymoon to unwind. In recent years, couples forego the honeymoon in favor of the minimoon.

A minimoon is a prelude to the honeymoon, and is perfect if you and your beau want a sweet and memorable luxury holiday right after your wedding celebration or even several memorable mini-breaks whenever it catches your fancy. Opt for quick escapes to a nearby vacation destination that allows you to get away from it all.

Pico de Loro Cove in Nasugbu, Batangas proves to be the perfect destination for a memorable minimoon. Now only a 90-minute drive via the Cavitex-Ternate-Nasugbu route, it is also accessible via a seasonal ferry from Mall of Asia.

Here are some minimoon ideas at Pico de Loro Cove:
Have dinner by the beach or lagoon.
Pico de Loro Cove features a 1.5-kilometer coastline, which sets a romantic backdrop for your honeymoon.  Take a nice stroll on the sand, or request for an intimate dinner by the beach as the sun sets and paints the sky with beautiful colors, or by the lagoon for an equally romantic setting. You'll surely have a memorable time with great food, a stellar view, and the love of your life by your side.
ADVERTISEMENT - CONTINUE READING BELOW
CONTINUE READING BELOW
Recommended Videos
Enjoy spa services for two.
Your honeymoon getaway will allow you to spend some quality time together. At Pico de Loro Cove, you will find so many simple yet memorable ways to enjoy each other's company. To make your vacation even more relaxing, you can avail of the couple's massage at the Rain Spa at Pico Sands Hotel. The massage will be a much needed treat after all your busy wedding preparations.
Take a boat ride to a secluded cove.

Visit a secluded destination for some quality time together. From the resort, you can arrange for a five-minute boat ride to Santelmo Cove, a white sand beach which is a protected marine sanctuary.
Santelmo Cove is a paradise with its clear blue waters and pristine beach. You can relax on hammocks and pillows set under palm trees while enjoying a sumptuous picnic. For something more adventurous, you can try snorkeling and exploring the beautiful underwater sights. You may choose from the half-day and whole-day packages at the cove.
ADVERTISEMENT - CONTINUE READING BELOW
Romantic Getaway packages at Pico de Loro Cove start at PhP15,000 for an overnight stay. With the variety of activities you can choose from, your minimoon at Pico de Loro Cove will surely be unforgettable.

Comments
Load More Stories