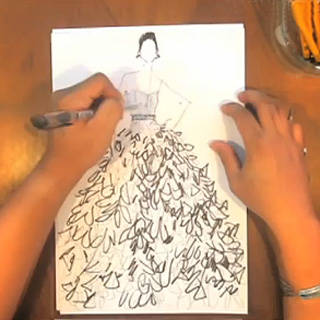 Finding the perfect wedding gown is a dream come true for most brides, and at Michi Calica Bridal, crafting the gown starts with a consultation with fashion designer Michi Calica. Michi makes an effort to collaborate with the bride to ensure that the gown represents the bride's personality.
Among Michi's famed clients is commercial model Anielle Santos-Banzon, who donned a dreamy creation by the designer. Michi shares, "I began Anielle's first consultation by getting to know her personal style, and her expectations for her wedding dress. What helped me jumpstart this with Anielle was the bride-to-be info sheet I emailed to her in advance. I appreciated that she simply laid out the overall look of her wedding (vintage-romantic) and a few general ideas for her gown. She wasn't one of those brides who insisted that I copy a peg, and I appreciated that."
For the most part, Michi was given freedom to design the gown, but she also took into consideration the bride's requests. "Anielle was particular about the fullness of her skirt. She wanted movement and drama," she says. Michi executed the bride's vision by crafting an elaborate skirt. "[The gown took] 6 months [to finish]. The challenge was hand-appliqueing the skirt. It took 80 yards of individually-cut petals, and [it entailed] a tedious process of attaching them," adds Michi.
ADVERTISEMENT - CONTINUE READING BELOW
CONTINUE READING BELOW
Recommended Videos
The immense effort that Michi poured into the gown paid off. She narrates, "You won't believe how many brides have come to me asking for the Anielle wedding dress. Though I developed this petal applique long before I met Anielle, I think Anielle truly wore it so well. I always have to tweak the design I made for Anielle--[I] never give identical designs to anyone. Brides who are going for this look are feminine women looking for a modern romantic touch in their wedding dresses."