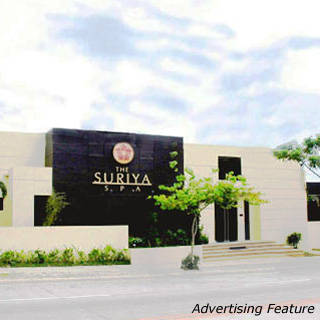 You and your husband-to-be have been busy preparing for your big day: walking to and fro exhibit halls to check out new vendors in bridal fairs, attending back-to-back meetings with suppliers over coffee, losing sleep over your guest list and documentary requirements, and giving your skin (and hair) a beating with all those hair and make-up trials. To keep yourselves from succumbing to pre-marital stress, take time out to take care of yourselves, and unwind in the confines of this urban oasis that is Suriya Spa Frontera Verde.
Upon entering the premises of Suriya Spa Frontera Verde, one cannot help but feel calm with the scent of essential oils and ambient music filling the softly-lit lobby. The smiles from the staff puts one easily at ease, and (assuming you've made an appointment beforehand, and arrive on time), you are immediately ushered into your own private room to begin your road to rejuvenation and well-being.
ADVERTISEMENT - CONTINUE READING BELOW
What you'll immediately notice is your utmost privacy. Every Suriya Spa client has his/her own room, each with its own toilet and bath, and each equipped with a Jacuzzi (washed and drained after every use!) that's recommended to be used by guests for at least 10-15 minutes.  As all Suriya services are done in the room, there is no need for you to shuttle in and out of treatment areas. All Suriya Spa therapists are well-trained, and the products used here are based on all-natural ingredients. Individuals, couples, and groups can be accommodated in the well-appointed rooms of the Frontera Verde branch.
CONTINUE READING BELOW
Recommended Videos
Suriya Spa offers special packages for brides and grooms, and these are recommended to be taken a week or a few days before the wedding:
With The Bride's Big Day package, you can pamper yourself with the following Suriya Spa treatments:
Aromatherapy Salt Scrub, and gently remove with a blend of aromatic sea salts those impurities and dead skin cells, increase circulation and reveal a softer, glowing you;
Tea Effleurage Massage, and regain your sanity in one of Suriya Spa's most popular massages that uses the natural therapeutic properties of green tea oil;
A Caviar and Pearl Facial, and surprise your groom with a more kissable you with Suriya Spa's natural botanical alternative to reducing wrinkles, and to improving skin elasticity and suppleness;
Hair Spa, to relax every bride's tresses with the cooling effect of peppermint; and,
Manicure & Pedicure, and Under-arm Waxing all done the Suriya way.
ADVERTISEMENT - CONTINUE READING BELOW
Grooms too can expect the royal treatment at Suriya Spa. Under the Fit for a King package, grooms will receive the following:
Aroma Water Lily Facial, a facial that de-stresses, moisturizes and restores skin's natural balance with the use of this plant's nourishing properties;
Aromatherapy Salt Scrub, as every groom should be just as smooth and beaming as his lovely bride;
Hot Stone Massage, another popular Suriya treatment, using smooth, heated basalt stones with oil that's placed on chakra points of the body; and,
Hair Spa, to calm and condition your man's luscious locks and scalp with soothing peppermint.
As these special packages from Suriya Spa begin at PhP6,000, these make the perfect wedding shower present as well!
Suriya Spa Frontera Verde is the biggest branch of Suriya Spa, and Suriya can customize bridal shower and other group packages too. For a complete list of services and other packages offered by Suriya Spa, visit their supplier listing here.
ADVERTISEMENT - CONTINUE READING BELOW
Load More Stories