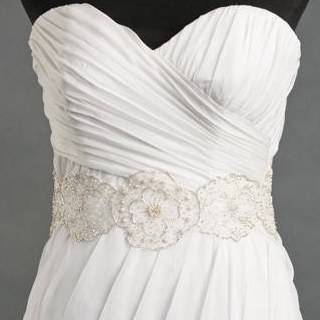 Before Mel Orlina was producing some of today's most whimsical bridal gowns, she was a little girl spending time at her grandmother's "patahian", where she would watch a piece of cloth transform into a beautiful ensemble. But more than making her fall in love with clothes, these precious moments have served to give Mel her own fashion sense.
Like a true artist, Mel managed to hone her sense of style through design courses here and in London, as well as through her work in advertising. Encouraged by her husband, Mel eventually started her business in her 25-square-meter apartment with just a mannequin, sketchpad, some cloth swatches, and the neighborhood dressmaker as her ally to execute her early designs.
From this simple beginning, a famous wedding gown designer has emerged, with couture that boasts flatteringly feminine pieces with a modern edge. With her eye for innovation, Mel produces designs that are known for using quirky focal points to create couture details. Mel's favorite is the "fit and flare" look, which is a more modern take on the figure-flattering gowns accentuating a woman's curves only to flare beautifully at the skirt.
But of course, a favorite look comes with a favorite trend. Mel confesses her love for lace and the way it ages beautifully. A fashion designer with a sense of practicality however, she warns that the quality of the lace and its execution are important factors.
Another essential to Mel's design process is getting to know her clients. While envisioning the gown of her dreams, Mel asks a lot of questions to create ensembles that are as beautiful as her client's personality. During the meeting, Mel produces a lot of sketches and shows her client different color swatches so that the bride can have a mental image of what her gown will look like. For Mel, her unique ability to listen and to stay hands-on during the entire process definitely set her apart from other designers.
ADVERTISEMENT - CONTINUE READING BELOW
For the future, this design maven envisions longevity for her brand. Mel says, "The way I see it, we all need to stay fresh and that means bringing in young minds into the fray. I want to bring younger people in and learn from the ground up."
All in all, the entire process (including fittings and considering the difficulty of detailing) can take one to six months. But with Mel's creative vision and talent for infusing feminine chic with modern innovation, it'll be worth the wait.
To see photos of sample works, and to contact Mel Orlina Couture, click here.

Comments
Load More Stories