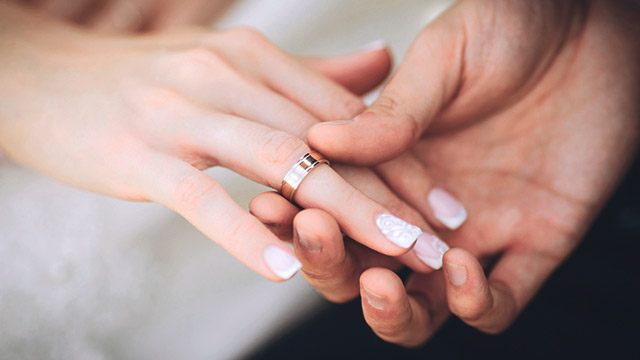 Congratulations! You just got engaged! The world is suddenly so wonderful, and your head is constantly besieged by images of you in a beautiful white dress with the man of your dreams waiting for you at the altar. This haze of pink and glitter will soon fade away as you approach this gate called THE WEDDING PREPARATIONS.
ADVERTISEMENT - CONTINUE READING BELOW
CONTINUE READING BELOW
Recommended Videos
Now, now. Calm down. There is no need to fret. I do, however, advise you to dispel any false notions that the shotgun wedding is possible in the Philippines (I was assured repeatedly: IT IS NOT). Before you walk down that aisle, you must understand the essential steps to prepare for a wedding in the Philippines:
ADVERTISEMENT - CONTINUE READING BELOW
1. Getting your marriage license
This document will be your proof that the marriage is legal and binding. To be given this license, the following documents must be submitted to the city hall where you plan to get married:
Certified True Copy of the couple's birth certificates 
This can only be obtained directly from the National Statistics Office. You may either visit any NSO office or order online via their web portal. Delivery may take five to seven business days, so secure a copy ahead of time.


Certificate of No Marriage (CENOMAR)
This document proves that neither you nor your partner is in an existing marriage. You can also get this at the National Statistics Office, or you can order it online. In case the bride or groom was previously married, the CENOMAR must be replaced by the Certificate of Finality of Annulment or Death Certificate of previous spouse (if widowed).


Barangay Clearance
The bride and groom must both secure this from their own hometowns or place of residence.


Community Tax Certificate (Cedula)
As above, you may get this at your local city hall.


Parental Consent
According to the Family Code, parental consent or advice is required before you're allowed to get married. If any one is between 18-21, parental consent to the marriage must be obtained. If the groom or bride is between 22-25, a signed document from the parents (aka parental advice) indicating that they are aware of the marriage is needed.


Certificate of Attendance in a Pre-Marriage Seminar
The mandatory family planning seminar is conducted within your city hall's premises.


Marriage License Application
I suggest filling these forms out together with your future spouse, as you will be in for lot of writing! 
ADVERTISEMENT - CONTINUE READING BELOW
Once all the requirements are complete, submit your application to your local civil registrar's office. The license will be released within 10 working days. It is only valid for four months.

2. Preparing your church documents
The Catholic Church has additional requirements in case the couple decides on a denominational ceremony:
Marriage License
Once obtained, the marriage license is only valid for four months. This must be submitted to your church before they can proceed.


Baptismal Certificate
A true copy issued by the church where you were actually baptized.


Confirmation Certificate
As above, this should be re-issued by the church where the ceremony took place.


Canonical Interview
The parish priest at the chosen venue for he ceremony will be conducting separate interviews for the bride and groom. During this discussion, the priest will discern if both parties are ready for marriage.


Banns of Marriage 
At least four Sundays before your wedding, secure the marriage banns document from the church where the ceremony will take place. Marriage banns are wedding announcements that should be posted in your parish's bulletin boards. After three Sundays, the couple must retrieve a certificate from their parish office indicating that there have been no objections to the announcement.


Pre-CANA Seminar
This is your Catholic version of the government family-planning seminar. The objective of this session is to prepare the couple for the sacrament of matrimony.
ADVERTISEMENT - CONTINUE READING BELOW

The journey to the altar awaits you. Embrace the process.
Comments
Load More Stories