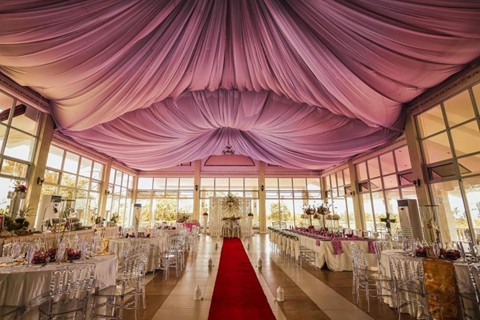 These days, Tagaytay weddings--with its romantic scenery and cool weather--are becoming more popular among marrying couples. If you're looking for an ideal venue for your wedding day, Mahogany Place Tagaytay may be the ideal setting for your heartfelt exchange of "I do's." The reputable venue, which features two lush gardens and a grand reception hall, has different wedding packages to suit your budget.
The Love Taste Package (minimum of 100 guests) is a venue and caterer package from Mahogany Place Tagaytay's partner supplier Town's Delight The Caterer. If you book this package, you may choose five to six main courses, a choice of soup and starter, a sushi platter, a dessert bar, and a choice of soft drink or orange juice.
The Love Taste Package gives you and your beau several options for your unforgettable wedding reception. An outdoor gathering at The Gazebo costs PhP186,800. On the other hand, an event at The Tuscan Garden costs PhP198,000. For your indoor celebration, you may choose to have a memorable feast at The Grand Atrium, which costs PhP220,400.
ADVERTISEMENT - CONTINUE READING BELOW
In case you wish to put together your own team of suppliers, you may opt to rent any of Mahogany Place Tagaytay's spaces. Rates start at PhP55,000 for The Gazebo, PhP65,000 for The Tuscan Garden, and PhP85,000 for The Grand Atrium. Combination rates are also available if you want to have your ceremony and reception separately in any of their three venues. You can also choose among their list of trusted accredited caterers for events.
Whether you choose to rent a space or avail of the Love Taste Package, you'll enjoy the following venue inclusions: a five-hour use of your chosen venue, day-use of a bridal room plus one deluxe room, a five-hour use of the venue for your prenuptial shoots, and an option to avail of their other deluxe rooms at a discounted rate.
To further provide you with excellent services, Mahogany Place Tagaytay only conducts one event per day to make your wedding intimate and memorable.
ADVERTISEMENT - CONTINUE READING BELOW
Comments
Load More Stories