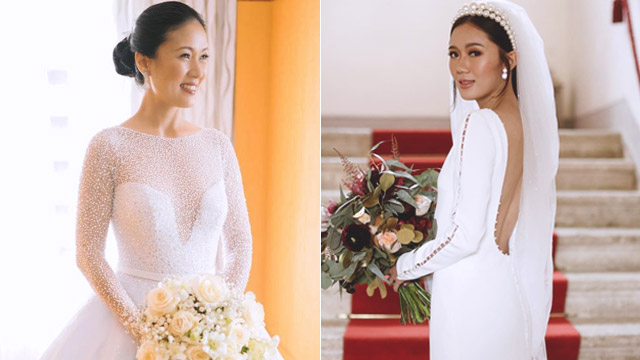 When it comes to long-sleeve bridal gowns, the words "refined," "conservative," and "modest" would easily come to mind. While all that rings true with this non-sleeveless style, it can also unexpectedly be a bit sexy and daring. With a play of skin reveals through lace and other see-through fabrics, long-sleeved gowns these days hardly only cater to the conservative types—they're even perfect for brides who are looking to look a bit sultry on their wedding day. And if you happen to be one of them, prepare to swoon over these breathtaking long-sleeved styles below: 
ADVERTISEMENT - CONTINUE READING BELOW
CONTINUE READING BELOW
Recommended Videos
1. High-low neckline 
A high-neck, lace bridal gown screams classic and conventional, but match it with a deep, plunging neckline that'll subtly peek through your sheer lace top, and you get a wedding day look that's equal parts refined and sexy. 
2. Barely-there sleeves 
Whether you feel a little too bare in a sleeveless top or you need to cover up for your church wedding, here's a pretty workaround idea we got from wedding gown designer Veluz: opt for long sleeves made from a soft tulle fabric and have it wrapped around your arms to add enough coverage (and a little drama!) to your bare shoulders. 
ADVERTISEMENT - CONTINUE READING BELOW
3. Sequins all-over
This sheer, sequined long-sleeved gown keeps you covered up and church-appropriate while looking extra-radiant in the process. With that shimmer all over your body, you won't need to accessorize elsewhere (other than your ears). 
ADVERTISEMENT - CONTINUE READING BELOW
4. Minimalist with a low-back 
Demure at the front, party at the back! A clean, crisp long-sleeved gown contrasted with a dramatic backless detail is another winning option for the moderately daring bride. We love how it leaves room for a "wow" factor once you reveal the back side to your guests. 
ADVERTISEMENT - CONTINUE READING BELOW
5. Statement sleeves
This long-sleeved bridal gown with a low, V-neckline holds the right balance of sultriness and modesty, and the cuffed-style long sleeves and center slit takes the look from basic to uber-romantic.  
6. Co-ordinates 
Feeling a little bit more daring? Get inspired by this free-spirited bride who added a fun, sexy twist to her top-and-skirt combo by opting for a cropped silhouette. While this outfit obviously won't pass as church wedding-appropriate, it'll look amazing at a garden or beach ceremony. 
ADVERTISEMENT - CONTINUE READING BELOW
7. Bell sleeves 
Taking the long-sleeved route is also ideal for brides who want to pull off a bohemian vibe. Boho-inspired gowns like this one by Rosa Clara are usually never complete without loose, flared sleeves that add a free-spirited vibe to any dress. 
ADVERTISEMENT - CONTINUE READING BELOW
ADVERTISEMENT - CONTINUE READING BELOW
8. Flowing lace 
Meanwhile, here's a wider, flowier boho-style sleeves made from French lace that will look especially dreamy at a beach wedding! Just imagine saying "I Do" in this romantic dress by Claiza Bihasa as the sun sets over the horizon.  (How about an all white wedding to really let the sun's colors take over if you're getting married somwhere with a view!)
ADVERTISEMENT - CONTINUE READING BELOW
9. Bateau neck  
Lace sleeves can also add a dramatic spin to classic boat neck wedding gowns. They also make the look more romantic and less dated.
10. Illusion lace
This is one of the most popular type of long-sleeve bridal gowns; it keeps your arms exposed without feeling like you're baring it all, thanks to the strategically placed patches of lace or beaded fabric. 
ADVERTISEMENT - CONTINUE READING BELOW
11. Off-shoulder, head-to-toe lace
Can't decide on a neckline? Consider a classic off-shoulder style that lets you put your neck and your decolletage on display in a sexy but demure way.  
ADVERTISEMENT - CONTINUE READING BELOW
12. Cold-shoulder 
Meet the equally romantic alternative to the standard off-shoulder neckline! Exposing just a hint of your shoulders through cutouts, a cold-shoulder gown like this one by Michael Levya feels very feminine and flirty yet still modest. 
13. Dramatic capes
Long sleeves can also come in the form of full-length, sheer capes that lend an otherworldly feel to your wedding-day look—and they make for a dramatic church entrance. (Remember when Gwyneth Paltrow rocked a cape at the Oscars in an all-white number?) But apart from that, capes that are attached to the gown serve as a great solution for brides who need to cover-up their sleeveless dress for the ceremony. 
ADVERTISEMENT - CONTINUE READING BELOW
ADVERTISEMENT - CONTINUE READING BELOW
The best hairstyles for long-sleeved bridal gowns 
"Should I wear my hair up or down?" is a common little dilemma amongst brides, especially when they're wearing a high neck with lovely details.
The answer is simple: It depends on your neckline. "With every single look, whatever geometry of the dress you have, you try to create balance with the hair," celebrity hair stylist Bridget Brager tells Elle. 
For boat necklines: 
The wide, horizontal neckline that highlights your collarbones is the main highlight of a bateau neck, so you'd want to keep your hair off your shoulders for this particular dress style. Otherwise, "wearing too much hair down with this look isn't flattering—you aren't able to see everything you want to show off," explains lead stylist Temur at Sharon Dorram Color with Martha Stewart Weddings.
A loose, messy updo with a few tendrils to frame the face 
ADVERTISEMENT - CONTINUE READING BELOW
Perfect for beach, rustic, or garden affairs, too!
Or a french braided 'do to give the polished neckline a relaxed, playful vibe  
FN Tip: If you don't want to commit to an updo, you can also just opt for a half-up half-down hairstyle (bonus: add a fancy head piece) and push your tresses back to keep them away from your neckline, as demonstrated by Bela Padilla and Anne Curtis: 
ADVERTISEMENT - CONTINUE READING BELOW
ADVERTISEMENT - CONTINUE READING BELOW
For high-necklines: 
Like how it goes with boat necklines, you'd want to keep your hair pulled back to show off the high neckline of your gown. 
A simple low ponytail to keep it polished in the front 
ADVERTISEMENT - CONTINUE READING BELOW
A high updo for a lengthening effect and a regal vibe
For V-necks and off-shoulder necklines:
An updo is obviously the best hairstyle to show off that sultry neckline, but keeping your hair down would look romantic, too.
If you're leaving your locks down, just make sure that your V-neck is not totally covered as you still want to show off those collarbones. 
ADVERTISEMENT - CONTINUE READING BELOW
A deep side part to keep one side of your tresses neat and tidy 
[instagram:https://www.instagram.com/p/BrRi7LjlqsU/
ADVERTISEMENT - CONTINUE READING BELOW
A clean, sleek-knotted low bun (or chignon) to highlight that delicate neckline 
ADVERTISEMENT - CONTINUE READING BELOW
Load More Stories