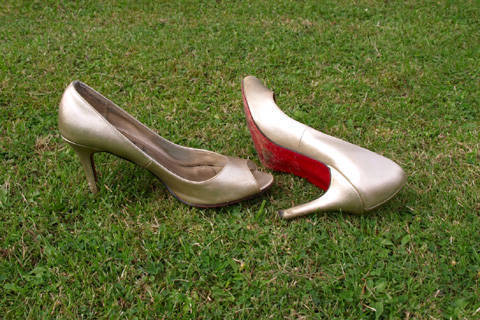 While it's a dream to don a heavenly pair of high heels on your wedding day, it can  also be a nightmare if they don't fit you well and you can't walk in them. Before you shell out some serious cash for that towering pair, be sure that you listen to what your feet have to say. Isha Andaya, managing editor of StyleBible.ph, shares three of the most common high heel problems and aches that brides should watch out for when choosing a pair of heels.
·         Toe Poke
If you're planning on getting a steep pair of shoes with heels over 3", Isha says that you'll practically feel like you're walking on tip-toes when wearing them. "It's fine for the first hour or so but it's sure to hurt the balls of your feet if it's not a good shoe," Isha explains. With this in mind, Isha suggests checking to see if there's adequate cushioning in the part of the shoe where the ball of your foot rests. You can also buy a pair of stick-on foot petals for added padding.
ADVERTISEMENT - CONTINUE READING BELOW
·         Strap Trap
"Check the width of the straps or the pumps in relation to your feet," Isha advises. Doing so will give you an idea how well the shoes will fit. Isha notes, "If it's too tight, it'll pinch your feet. If it's too loose, you'll end up sliding down the sandal or leaving your pumps behind when you walk."
·         Slip Walk    
If you and your hubby have prepared a grand dance number for your guests, you don't want to sway your way to a grand accident with a slippery pair of heels. To avoid this dance floor tragedy, Isha suggests that you break your shoes in first. "Make sure there's enough traction and grip at the bottom of your shoe," she says.

 

Photo Source: sxc.hu (Rbut)

Comments
Load More Stories