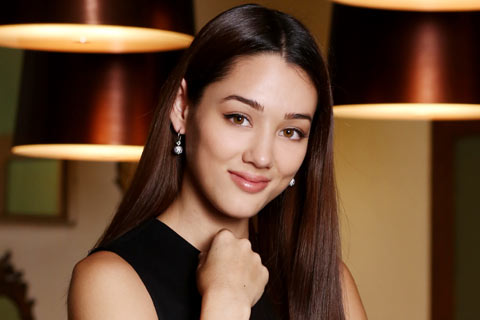 We caught up with TV host, model, and fashion blogger Kim Jones during the Essence of Pandora event, and the pretty and charming lady was game to share her thoughts on love and wedding planning with BridalBook brides.


With only a month to go before her wedding to fiance Jericho Rosales, Kim Jones already has most of her wedding planning details down pat and is looking forward to the coming weeks as time to take it easy. "I'm not going to lie," Kim admits. "Wedding planning is not always fun. But I do enjoy the process and I take it one task at a time."
CONTINUE READING BELOW
Recommended Videos
ADVERTISEMENT - CONTINUE READING BELOW
Unlike most little girls, Kim never had dreams of a grandiose wedding. "I've never been one of those girls who had her wedding planned all of her life," she reveals. "I've never had clippings, or a folder." But these three things she knew she had to have for her wedding: the beach, the dress, and the man of her dreams.
"I always knew it was going to be a beach wedding," she shares. The couple are tying the knot with close friends and family on the sun-kissed island of Boracay. And while Kim confesses to be a hands-on bride, she also believes that brides need a weddding planner, especially for destination weddings. No less than Amanda Tirol is helping her with her wedding. "She's amazing," gushes Kim.
"I've also always known what my dress was going to look like, and it's pretty close to what I will be wearing on my wedding," she says. Her gown fittings are among the things that she enjoys about wedding planning.

ADVERTISEMENT - CONTINUE READING BELOW
And the man of her dreams? When Echo asked for her hand in marriage with their whole church as witness, Kim already knew that he was the one. "That he was able to do that - that's faith. That's love."
Love, of course, is the essence that Kim holds so dear to her heart. This was the essence that she chose to represent as one of Pandora's Women of True Essence. "For me, love is eternal. It is a universal language, and nurtures us and allows us to grow by doing things that we are passionate about," says Kim. She also puts equal importance on faith. As a bride-to-be, Kim believes love and faith work hand in hand and are the fundamentals of a successful marriage. "These essences have made me what I am today. Without faith and love, I wouldn't have made the decisions that I had."


Before we part, Kim shares with us what her bridesmaids usually remind her when she finds herself stressing out too much about the wedding. "They say, 'Kim, you're only going to plan one of these, so enjoy it.' And I'm taking their advice."

ADVERTISEMENT - CONTINUE READING BELOW
And her advice to brides-to-be? Don't sweat the small stuff. "I don't spend too much time worrying about the details. I get excited about the day approaching, about the day itself. In the end, I know it's going to be the best day of my life."
Best wishes, Kim & Echo!

Love,
The BridalBook Team

Comments
Load More Stories