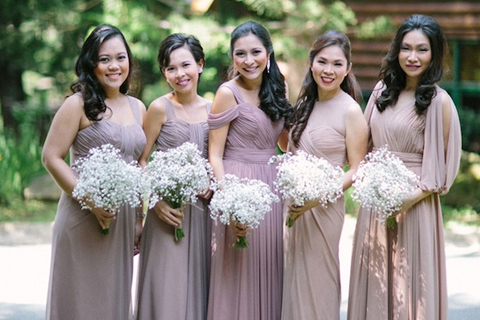 Something beautiful is even more enchanting when there's an interesting story behind it--when what is seen on the outside is a mere glimmer of the gold that lies within.
Wedding gown designer Jamie Go offers brides with beautiful creations that are woven with unforgettable stories. Every gown is sprung from her love for weddings and her passion for her craft.
To make each gown special, Jamie incorporates her clients' personalities into her creations, without compromising her style principles. Her gowns exude freshness through her tasteful choice of color, style, and cut. Although she specializes in feminine yet minimalistic designs, she never fails to wow her clients with her stylish and elaborate ensembles. Jamie is driven to see her bride glowing on the most important day of her life, which is why she puts her heart into every gown she makes.
While Jamie's impeccable craftsmanship shines through, brides also notice her enthusiasm and approachable personality, which makes every client feel comfortable. She lets her brides give suggestions about the design of the gown, but she still takes the lead to make sure that the gown comes out stunning in the end.
ADVERTISEMENT - CONTINUE READING BELOW
Jamie's passion and keen fashion sense keep her at the top of her game. By constantly producing stellar gowns that are at par with the ever-changing fashion trends, she makes each client feel effortlessly beautiful. Moreover, her unparalleled determination to help brides find the perfect dress puts her in a league of her own.
CONTINUE READING BELOW
Recommended Videos
Comments
Load More Stories