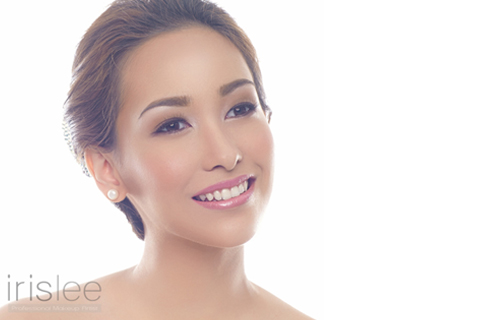 We asked makeup artist and Pond's Beauty Council member, Iris Lee, to share her insights on bridal beauty. Read on to learn more about her tips for brides who are getting ready for her most special day.
What are your favorite bridal looks?
First is the fresh dewy bridal makeup with neutral eye shadows and soft pink lips. Second is adding drama to the eyes by using a smokey-eye technique with a black eyeliner, and then coloring the lips with neutral pink or peach lipstick for a modern bridal look. Lastly, I like using neutral-colored eye shadows with a surprise pop of color--like fuchsia pink or coral orange--for the lips of the adventurous bride.
ADVERTISEMENT - CONTINUE READING BELOW
How early should brides start preparing their skin for the wedding?
Six months before the wedding is a great time for brides to start a skin regimen to make sure their skin is at its best on their big day. Great makeup starts with great skin--that's one of my main mottos. For those with less time, three months before is still an ideal time to start.
What steps should brides add to their beauty regimen to prep their skin before their wedding day? Are there any products that you would recommend to brides?
If the bride follows a beauty regimen months before her big day, the only thing that's left to do is to make sure is that she gets enough sleep every night. It's something a lot of brides usually overlook.
One of my favorite products, which I use to overcome skin discoloration and dark spots, is Pond's Flawless White Ultra Luminous Serum.
ADVERTISEMENT - CONTINUE READING BELOW
How should brides communicate their makeup preferences to their suppliers? Are you more comfortable with pegs?
When it comes to makeup pegs, I try not to rely on them, since it tends to mix up client expectations. I've experienced clients sending me makeup pegs with makeup styles which are not suitable for their facial features. What I do is I focus more on the shades of eye shadow, blush, and lipstick they like. I show them some swatches first, then I apply the makeup style that would enhance their features best.
What beauty essentials should brides have inside their bridal bag, and why?
I have three must-have suggestions for brides. For shine control, blotting papers are an excellent choice. I prefer this over face powders, since layering too much powder on the face can lead to a cakey look. The second must-have is lipstick for retouches. Lastly, she should have some hair pins just in case any part of her hairstyle loosens out. As a nice gesture to my brides, I give them blotting papers and lipstick in a small container with a disposable lip wand for retouches, so I'm confident the makeup will stay perfect all throughout her big day.
ADVERTISEMENT - CONTINUE READING BELOW
For more information on Iris Lee, click here.
Comments
Load More Stories