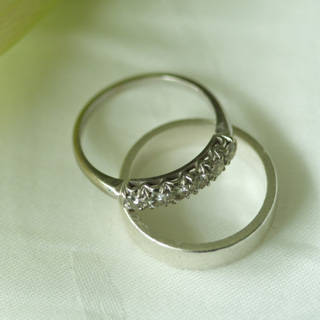 Your wedding rings are more than just the traditional symbol of everlasting love-they represent a significant investment, both emotionally and financially. And as gold or platinum wedding rings aren't exactly budget buys, it would do you good to make sure that you've got your wedding bling covered. Not many people do this, but it may be wise to insure your wedding ring.
Here in the Philippines, there's no specific kind of insurance for wedding rings, but you may be able to add provisions to certain types of existing insurance for your rings. Home insurance usually covers basic hazards, such as fire or lighting but it's possible that there are provisions in your insurance policy that you can add on to protect your home from other dangers, such as earthquakes, floods or burglary. However, not all home insurance automatically covers your belongings, such as antiques or jewelry (in the case of theft). You may have purchase an extension (called a "rider") to your home insurance to protect these valuables, which may include your wedding rings.
ADVERTISEMENT - CONTINUE READING BELOW
Before getting coverage, make sure you go over certain points, such as "In what cases is the ring covered? Does the insurance only cover theft? What about loss?", "How will the ring be replaced?" and "Is the ring insured to full cost, or only partially?" You may also need to have your ring appraised before it can be insured. The insurance company might have certain standards for appraisal, and jewelry appraisal costs money, so be sure to find out the exact information they need before getting your rings appraised.
Sources:
http://showbizandstyle.inquirer.net
http://weddingstyle.suite101.com
http://ideas.thenest.com
Photo source: sxc.hu

Comments
Load More Stories