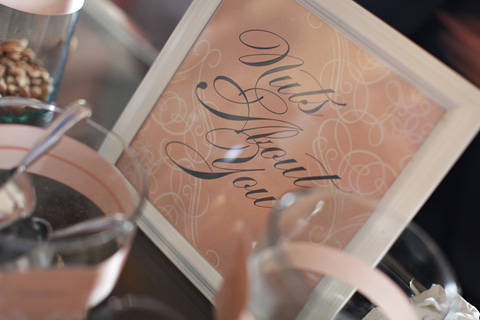 Feasting over delectable dishes is one of the best ways to celebrate your big day with your loved ones. As the affair easily brings together people, food can be a rich source of inspiration for love-filled celebrations, such as weddings. Aside from being served at the reception, food may also be incorporated or translated to the décor, favors, invites, and other wedding elements.
According to Ernest Pascual of Bespoke Manila, when thinking of a particular cuisine or food as inspiration for your theme, the choice has to be personal. "Why are you choosing it? I had one couple who really loves wine, so it was a no-brainer for them to have vineyard-themed wedding. They had tables named after famous wineries all over the world. They also had different shades of violet for their motif," shares Ernest. Consider your personality as a couple, and let your love for food set the tone for the event.
ADVERTISEMENT - CONTINUE READING BELOW
For more ideas on where to get inspiration for a food-inspired affair, see our list below.
A favorite dish from your or your groom's childhood
Since your wedding is practically a coming together of two families, sharing the kind of food that you have both grown to love is a great way to kickstart your families' bonding. Having your favorite family dishes served during the reception is a heartwarming gesture of welcoming each other's family. Moreover, food that brings up pleasant memories fosters a warm atmosphere.
CONTINUE READING BELOW
Recommended Videos
Dishes from a restaurant close to your heart
Relive your most memorable dates by serving dishes from your favorite restaurant--it could be where you had your first date or where he proposed. By doing so, you're sharing your love story in a unique way with your families and friends.
Food from a country or place where you traveled together as a couple
If food and traveling are your top interests as a couple, why not celebrate both at your reception by serving cuisine from a country you visited as a couple? This way, it's like you're taking your friends and family on a special trip through a gastronomic experience.
ADVERTISEMENT - CONTINUE READING BELOW
Your chosen wedding venue
One way of complementing the beauty of your chosen wedding venue is by incorporating food that the place is known for or is closely associated with. For instance, Ernest shares, adding fruits like green apples and grapes to the décor would suit a laid-back garden wedding in Tagaytay.
The season of your wedding
Another factor that may be taken into consideration with regard to having food-inspired details is the season where your big day falls. Most weddings in the Philippines are held during the Christmas season, and if you want your big day to be festive, you can opt for a Christmas-inspired affair and have chestnuts as favors to reinforce the theme.
Comments
Load More Stories