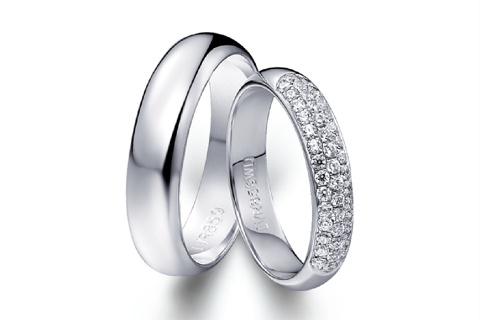 Wedding rings aren't only among the few lasting souvenirs you'll have of your wedding day, but they also serve as tangible reminders of your vows. If you're like most couples, you've probably decided to invest in your wedding rings, since you'll be wearing them everyday.

High-grade wedding rings don't come cheap, which is why you want to make sure that you'll be taking care of your bands. To help you keep your wedding rings in tip-top shape, My Diamond shares some tips below.

Keep rings in a safe place
Have a designated space for your rings--preferably a box or a pouch lined with fabric. It's advisable that you don't put your wedding bands with other jewelry pieces to avoid scratching. When you decide to take off your rings, put them in the same spot, so that you won't misplace them. Or if you want, you may station small ring dishes at the places where you usually take off your ring (i.e. the kitchen, the bathroom) so you can easily find it after. Just make sure that you keep your rings in a secure spot that's easy for you to remember.

ADVERTISEMENT - CONTINUE READING BELOW
Remove rings when playing sports or doing manual labor
While metals and diamonds are fairly hard materials, they're not made for high-impact activities. Don't take off your ring in public places though--you might end up losing the ring in the process. If you'll be working out at the gym or playing sports outdoors, leave your ring at home. For doing other household chores like washing the dishes, cooking or gardening, remember to take off your wedding ring as well. This way, you'll avoid scratching, chipping, or even losing the stones.
Don't expose the rings to harsh solutions
Exposing your rings to bleach and other cleaning chemicals may corrode its metal, so remove your rings when you'll be working with such solutions. You should also take off your bands when you're putting on bath products like shampoo, lotion, and even perfume, so that residue won't build up under the stones and in between the settings.
Clean your rings regularly
Some people clean their rings regularly with jewelry cleaner and a microfiber cloth, while others swear by baking soda, warm water, and a soft bristle toothbrush. Use a light touch, and make sure that the products are safe to use and won't corrode your precious rings. Moreover, remember to schedule a yearly cleaning service done by a professional. My Diamond offers jewelry care services that include cleaning and tightening the prongs to make sure that the stones stay in place.
ADVERTISEMENT - CONTINUE READING BELOW
Remember that you'll be wearing your rings through thick and thin, and by taking good care of them, you'll be making sure that they will last for a lifetime--just like your love.
To see photos of My Diamond's wedding rings and to learn more about their jewelry care services, click here.

Comments
Load More Stories