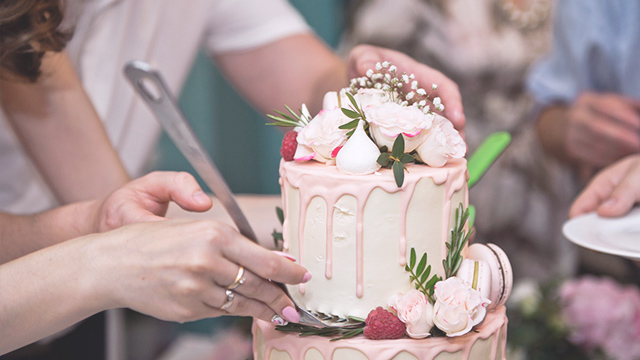 Wedding cakes can serve as your dessert, giveaway, or even a decorative accent piece that can really bring your theme home. Lots of small businesses and creatives thrive on customizing the right wedding cake for you, so enjoy the journey of searching for the right supplier because it can get exciting if you're a foodie. Below are some frequently asked questions of fellow brides-to-be, and how best to go about them.
ADVERTISEMENT - CONTINUE READING BELOW
Click here for Part I of our feature on wedding cakes and traditions you can break as a modern bride.
CONTINUE READING BELOW
Recommended Videos
Why do we serve wedding cake to guests?
In a feature on The Spruce Eats called "7 Wedding Cake Traditions and Their Meanings," Michelle Anderson writes that "The cake cutting represents the first activity done as a couple, although historically the bride did this act alone to symbolize the loss of her virginity."
And when it comes to feeding each other a piece of the cake afterwards, it's meant to symbolize "a commitment to provide for one another and a show of love and affection." (No wonder this became prime photo op material.)
ADVERTISEMENT - CONTINUE READING BELOW
What are the usual wedding cake flavors?
Back in the day, wedding cakes were always white, made with buttercream, vanilla, or almond. Now, your wedding cake can be any flavor you choose it to be, whether it's a plain vanilla, a smooth red velvet, or even a combination of flavors if you and your groom can't decide on one you both like. (Just remember that cakes with real fruits and less hearty fillings aren't good candidates for preservation).
One Girltalker also cautions that while chocolate may be a famous choice, it has its cons. You'll be posing for a looot of pictures on your big day, and dark chunks of cake could cause unnecessary teeth stains. Of course, this shouldn't hinder you from choosing your favorite flavor. Just keep be ready with a pocket mirror at all times, or ask your groom or maid of honor to check in between photo ops! (You may also ask for only your part of the cake to be a lighter color, and have chocolate for the other layers.)
ADVERTISEMENT - CONTINUE READING BELOW
What icing is used on wedding cakes?
You may choose between fondant and buttercream, depending on the cake finish you'd like. A fondant cake makes for a more formal accent piece with its smooth and sturdy finish. Buttercream, on the other hand, is less intimidating and has more of a rustic feel especially when applied to look textured. It has a silky, creamier finish, that easily melts off—definitely better for hotel ballrooms over potentially hot and humid beach weddings. (via Preview.ph)
Of course, if you want to go full-on rustic, a naked cake will do just fine as it's a common trend among modern brides. It's also perfect for a beach wedding. Remember Iza Calzado's three-tier wedding cake by Naked Patisserie? Gorgeous!
ADVERTISEMENT - CONTINUE READING BELOW
When to cut the cake at a wedding reception
Traditionally, the cake cutting happens at the end of the night, and right before the dancing starts. But nowadays, with wedding programs kept much shorter than they used to be (or less formal, at least), the bride and groom's entrance often leads to the first dance already, and the cake cutting happens right after (with many even opting to do this on the side and not as an official part of the program). This can also be done while the guests are having dinner, to be served in time for dessert!
Here's a guide on how to write your wedding reception script and a sample program flow to follow.
ADVERTISEMENT - CONTINUE READING BELOW
How to freeze wedding cake
If you plan on saving your cake for your first anniversary (many believe this to bring good luck), it's best to opt for "heartier cakes (like chocolate, carrot, hazelnut and almond) [which] will stand up better to a year in the chill."
In order to freeze your wedding cake correctly, remove decorations like sugar flowers, and place the cake on a container in the freezer until the icing hardens. (This is so that the outer layer doesn't stick to the plastic when you wrap it later on.) Make sure the cake isn't in a cardboard box, and that there are no other strong odors in the freezer like that of meats or fruits.
After about 30 minutes to two hours, take the cake out and wrap it in layers of plastic to prevent moisture from seeping into the cake and drying it out. Place it in an airtight container, and leave it in the freezer for 12 months.
ADVERTISEMENT - CONTINUE READING BELOW
How to defrost wedding cake
About one to three days before your first anniversary, take the cake out of the freezer, remove the wrapping, and let it thaw in the refrigerator. Take it out about one to three hours before serving to bring it to room temperature.
This may seem about odd, bit If you think a year is a long time, it can be remembered that on the christening of Prince Louise in 2018, the Royal Family announced on their official website that "Guests will be served slices of christening cake, which is a tier taken from The Duke and Duchess of Cambridge's wedding cake." If you can remember, Prince William's wedding to Kate Middleton was in 2011, meaning the cake was already seven years old.
Sources: Food Network, Bride Box, Brides.com
In need of a little more guidance? Here are a few tips we learned from real brides over at Girltalk:
Make sure to clarify the total cost of your order—including delivery and out of town fees.
It wouldn't hurt to be thorough! Aside from confirming thedelivery date and time, make sure to finalize your total delivery as well. You should also ask whether or not they have staff you'll need to allot meals for on the day.
ADVERTISEMENT - CONTINUE READING BELOW
FN TIP: If your cake is being delivered on the day, make sure to turn over the details to your wedding planner or any member of your entourage so you won't have to deal with it youself.
You can opt for a cupcake tower or resort to other creative hacks if you're looking to save money.
If you feel like getting a cake that isn't 100 percent edible isn't your style, but you're on a limited budget, you can opt for a strategically placed cupcake tower instead. What's great about a cupcake tower is that they can also double as your giveaway towards the end of the night. Likewise, you can also buy a ready-made cake that isn't too extravagant, and just design it with a topper or an elegant tray. At the end of the day, find a cake you can afford, and don't be too focused on a picture-perfect piece. The search for the perfect cake—tasting, family bonding and all—is just as important.
ADVERTISEMENT - CONTINUE READING BELOW
Comments
Load More Stories