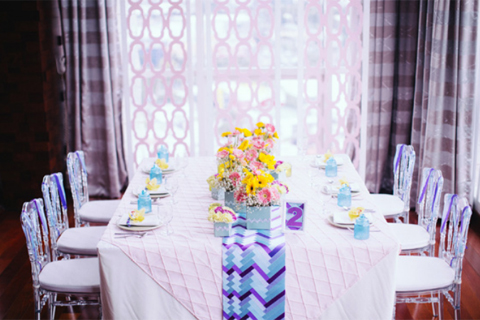 While your wedding day will be about you and your groom, make sure that your guests will have a ball as well. Your guests will be spending the entire day with you, and one way to honor their presence is to throw a fun and engaging reception.

Columnist and wedding host RJ Ledesma shares valuable tips on how you can make your wedding reception enjoyable for everyone.

Make guests feel as comfortable as possible
Guests will travel far and wide just to share in your happiness--so to return the favor, keep them comfortable throughout the day. "Try to make it as convenient as possible for your guests by having the reception right after the ceremony (and choose venues that are close to one another)," shares RJ.

You may also do a cocktail hour when guests arrive at the venue. Encourage guests to relax before the program starts by serving hors d'oeuvres and drinks or setting up a photo booth.

ADVERTISEMENT - CONTINUE READING BELOW
Keep the reception program short yet memorable
Your wedding day will be your day. It may be exciting to personalize your reception with special performances, speeches, slideshows, and videos, but remember that your guests' attention span has a limit. "Keep the whole reception--from the grand entrance of the sponsors up to the couples' 'thank you' speech--to under 2.5 hours," advises RJ. Streamline your reception program by saving the frills for the post-reception party.

CONTINUE READING BELOW
Recommended Videos
This may also mean gently turning down friends or relatives who offer to do impromptu performances. RJ explains, "An unexpected performance might draw away the attention from the focus of the evening--the newlyweds."
Get a reputable host
While you'll spend a lot of time and money to get the perfect reception décor, remember to invest in a reputable host as well. Granted, you may be tempted to get a friend or relative to host the reception, but don't you want them to enjoy your big day as a guest, too?  "With battle-hardened coordinators and hosts, they know exactly the idiosyncrasies of a wedding reception program and are able to anticipate any hiccups that occur during the reception," RJ says.
ADVERTISEMENT - CONTINUE READING BELOW
Remember what the day really is about
You'll go out of your way to ensure that every wedding detail is perfect, but remind yourself that some things might not go according to plan--and that's okay. "If anything happens that you didn't expect, then it just made your wedding day a bit more memorable," shares RJ. Don't sweat the small stuff, because at the end of the day, they're just that: small stuff.

Remember that the day really is all about celebrating your love. Enjoy the company of the people around you, and thank them. Most importantly, enjoy the company of your groom, who'll stick with you despite any disasters on your wedding day.
Comments
Load More Stories