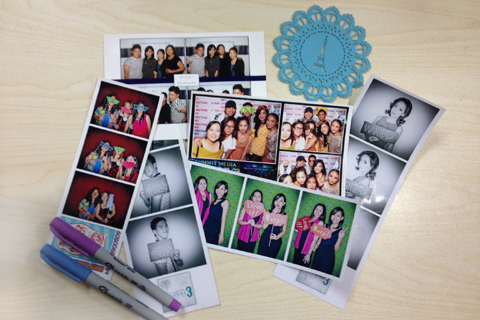 For most modern couples, photo booths are a must-have at special occasions, like weddings. Not only do these booths provide entertainment to guests, but it also allows them to capture your big day in a fun way.

If you're planning to have a photo booth at your wedding, see our tips to make the photo booth experience fun and hassle free.

Make sure there's ample space for queuing
While most photo booths take up a small space, you'll need to accommodate a long line. A lot of guests will surely want to have their photos taken, and they usually come in groups. Have the photo booth stationed at the foyer or receiving area of your venue, so that there's ample space for queues. Also, make sure that the photo booth isn't situated near the buffet (there will also be a line there) or the cake (lest your guests accidentally bump the confection).
ADVERTISEMENT - CONTINUE READING BELOW
Personalize your printouts
Because photos from photo booths have the tendency to look the same, suppliers now offer personalized printouts to their clients. This means that you can have your color scheme or even your logo incorporated into the design of the printouts. Your suppliers can take care of the personalization for you, but if you're quite particular with the design, you may also submit your preferred design to them. A tip: simplicity never goes out of style. You still want the photos--and not the borders--to be the focal point of the printout.
CONTINUE READING BELOW
Recommended Videos
Add props and backdrops
One way to encourage guests to go crazy with their photos is to provide them with a variety of props; these can be anything from sunglasses to wigs and feathered headdresses. You may even go for props that complement your chosen wedding theme. Your backdrops--whether plain or printed with a pattern or your names--will also allow you to personalize your photo booth.
ADVERTISEMENT - CONTINUE READING BELOW
Avail of the stop-time when the program starts
Most photo booth providers let couples avail of a stop-time--and it's a good idea to have one. For example, if you availed of a three-hour service, you may let guests use the photo booth for one hour before the program starts, and then temporarily stop the service until the program is done. This way, your guests' attention won't be diverted, and you can all enjoy the festivities together.
If you can, ask for multiple printouts
Some photo booths only print out one copy of the photo, since the photos will be uploaded online, anyway. However, it's also a good idea to ask for multiple prints, so that guests who have their photos taken in groups can each receive a copy of the photo. You may also collate the duplicates in an album, which your guests can sign in lieu of the traditional guestbook.
ADVERTISEMENT - CONTINUE READING BELOW
Comments
Load More Stories