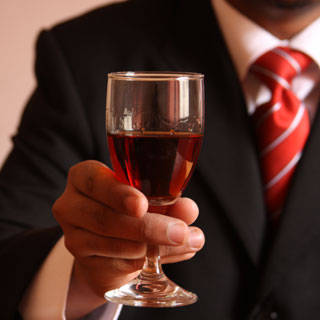 You'll be spending your wedding day with the people you love most, and most likely, you'll be asking those closest to you to prepare a speech for the reception. Not everyone finds it easy to talk in front of bunch of people (and strangers, at that), so to help you help your chosen speakers, see our tips below. 
Give them enough lead time.
As you plan for the wedding program, determine which guests you'd like to speak at your wedding. When you've chosen your speakers, tell them in advance (better if you can include a note in their invitation) so they can prepare what they'll say. You want them to say something meaningful, and to allow them do that, don't wait until the last minute--or worse, until the host calls their name--for them to find out. Telling the guest in advance will also give you enough time to find a replacement just in case that guest won't be able to make it to your wedding. 
ADVERTISEMENT - CONTINUE READING BELOW
CONTINUE READING BELOW
Recommended Videos
Let them know what you expect.
Some guests ramble on because they don't really know what they're supposed to say. When you inform a guest that they'll be delivering a speech, tell them about the general theme of the speech. Highlight the main points you want them to tackle so they don't go off course. The start of the speech can get tricky, since some speakers get carried away with sharing anecdotes about your experiences together. Such stories, while endearing, have the tendency to alienate or bore some of the audience. To prevent a dull situation, give the speaker a short outline of the speech. Ask speakers start off by sharing how they're related to you (i.e. "The bride and I were classmates in high school."). After a short introduction, they can then share their wishes or advice for your marriage.
ADVERTISEMENT - CONTINUE READING BELOW
Tell them that they can prepare cue cards if they want. 
Sometimes, all preparation comes to naught when a speaker is suddenly hit with stage fright--and then he'll have the tendency to forget what it was that he meant to say. If your guest gets nervous with the idea of speaking in front of a group of people, tell her/him that it's okay to bring a kodigo when s/he comes in front to deliver his speech. Not only will he be more organized as s/he speaks, but s/he'll also be more confident and s/he won't forget their ideas.
Serve alcohol just before the toast.
The last thing you want is for a drunk speaker to make a fool of himself in front of other guests. To prevent this, tell your waiters to serve the wine just right before the toast. Not only will you keep your speaker and other guests from indulging too soon, but you'll also be saving on the alcohol served at your wedding. Some couples on a budget serve wine just for the toast, and you can do this at your reception, too. Just have the waiters tell your guests to wait for the cue before they drain their glasses.

ADVERTISEMENT - CONTINUE READING BELOW
Set a time limit. 
It doesn't have to be as short as the 45 seconds allotted for every Oscar winner, but setting a time limit will help you follow the program's schedule. Two minutes should be more than enough for every speaker to say what s/he has to say--tell the speaker that this will work to his advantage, since s/he doesn't have to prepare a lengthy speech. A time limit will also keep your other guests from getting bored and fidgety. If there's one thing you can adopt from the Oscars, it's that they give a prize to the person with the shortest speech. You can prepare an incentive for the most succinct speaker, but do remind speakers to still keep their speech meaningful. 
You might also want to check:

ADVERTISEMENT - CONTINUE READING BELOW
Comments
Load More Stories