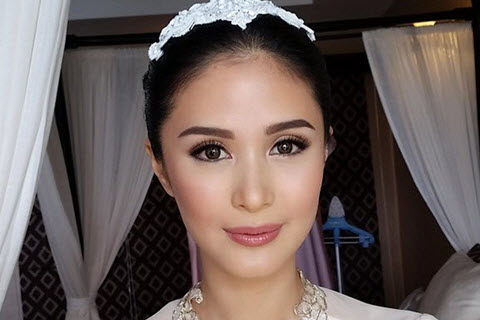 When newlywed Heart Evangelista walked down the aisle, all eyes were undoubtedly on her. Now it's your turn to grab people's attention at your future wedding! Here are some get-gorgeous tips we got from Heart's most beautiful day:
HAIR & MAKEUP FLAIR

Simply elegant - the best way to describe Heart's bridal look from her updo to her makeup.

1 - PULL BACK THE HAIR: Pulled back hair calls for some second day grip. Shampoo the night before your wedding and skip the hair conditioner to keep your style intact. For Heart's big day, hairstylist Jerry Javier kept it clean and sleek, letting her pretty face truly shine.

2- CLEAN YOUR ARCHES: Ensure clean arches by having them waxed professionally one week before the event. You can also tweeze strays the night before the big day. Don't overdo it or you may end up with super-thin brows which can make you look older than you really are.

3 - GET BOLD BROWS: To create a bold brow, work in layers. Start off by lightly filling in the spaces with a brow powder. Next, using short strokes, mimic eyebrow hairs by drawing them on with an eyebrow pencil and follow up with brow gel to hold the hairs in place. Heart's eyebrows were made even and arched slightly which framed her face perfectly.

4 - HIGHLIGHT YOUR EYES: Create a soft, smoky eye using brown eyeshadow to add subtle definition. Then, line your eyes all the way around to bring out their shape.

5 - REDUCE PUFFINESS: Use less concealer and reduce puffiness and dark circles by treating your eyes with eye cream. The night before the wedding, get some serious 8 to 12 hours of sleep so you'll look refreshed on your wedding day.

6 - PUT ON FALSIES: The secret to Heart's doll-like look? A pair of fluttery falsies. After putting on the false eyelashes, make eyes pop even more with a few strokes of black mascara.

7 - FLUSH OF LOVE: Sweep a pinky-peach or coral shade blush onto the apples of the cheeks for a look that mimics the flush of true love.

8 - GO SOFT ON THE LIPS: Keep the focus on your eyes with a swipe of nude or soft pink lipstick. Your face should be highlight of the day (aside from your wedding gown, of course).

 

FLAWLESS SKINCARE

Perfection begins with flawless, beautiful skin.

9 - PREPARE YOUR SKIN: Good skin starts with great skincare. First up: cleanse your face. Heart uses Pond's Pearl Cleansing gel because it's light and gentle on skin, perfect for making it cleansed and refreshed with every wash.
ADVERTISEMENT - CONTINUE READING BELOW
10 - GET ROSY PINK GLOW: Weeks before you tie the knot, brighten your complexion and ensure a rosy pink glow with Pond's Dewy Rose Whitening Soft Gel. The result? Poreless, spotless skin! Heart's glow? Thanks to this product which has Rose Lumiere Serum that penetrates deep into the skin, lightening dark spots and smoothing pores without the sticky feel.

11 - SET YOUR FOUNDATION: Achieve a flawless canvas by setting your foundation with Pond's Flawless White BB Cream with SPF. With this coverage, you are able to even out your skin tone and hide blemishes and spots. (It can also whiten your skin with every use!) Heart agrees: "I use Pond's BB+ Cream every time I leave the house because it has SPF 30PA++ that protects me from harmful UVA aging and UVB burning rays."

Want Heart's other inexpensive skin tips for great skin? Heart's flawless skin is courtesy of "a lot of water", "a lot of sleep", and her main beauty secret - Pond's! 

Now that you've got the #PondsBride look down pat, time to glow on your walk down the aisle just like the new missus, Heart Evangelista-Escudero!
ADVERTISEMENT - CONTINUE READING BELOW
Recommended Videos
Comments
Load More Stories