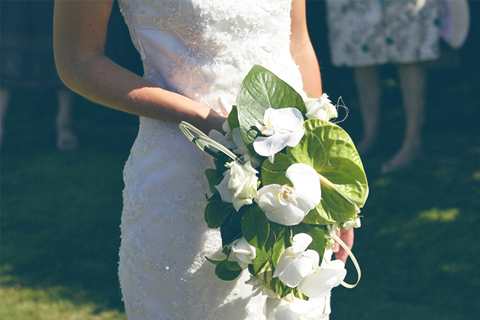 The days of Bridezilla are counted, as more and more women are turning into Bridechillas—brides who focus more on the marriage and less on the wedding. They are generally just chill about all the preparations and the entire process, but this doesn't mean that they don't care about whatever happens during the ceremony. It's just that they're not as uptight or as worrisome as the usual Bridezillas.

We know that it may take a bit of effort for you to ease up on the reins of wedding planning, but trust us, things are going to progress smoother if you relax your shoulders and let some things go. Here are a few ways on how you can be the ultimate Bridechilla that your bridesmaids and your husband-to-be will love.

1. Have a vision, but be flexible.
It's important to have one vision when it comes to a huge and personal event such as your wedding. Decide on the right theme and the right color scheme that everybody will follow, but allow your entourage and your guests some leeway on how to go about following it. Moreover, be kind to your suppliers. There are some things - such as flowers - that are seasonal, so you need to be okay about adapting or replacing a few items.

2. Don't micromanage.
Direction is very important for all those involved in planning your wedding, but remember, your suppliers are professionals. They've been doing weddings longer than you've been engaged. So let them work and quit breathing down their backs. Don't worry, though—as long as you've managed each others expectations and worked with each others' feedback, you'll get the best service that you can possibly think of.

3. Be prepared for anything, but don't be too paranoid.
As with every kind of event, your wedding has bound to be some glitches, and that's okay. Whether it drizzled a little on your garden set-up, or three of your choir members were late for the ceremony, what makes a wedding perfect is how you see it, and how you take these little mistakes in stride. Don't sweat the small stuff, and if things do go out hand, it's always good to have a contingency plan in place prior to your big day. Knowing that you have something to fall back on can allow you to breathe easier.
ADVERTISEMENT - CONTINUE READING BELOW
CONTINUE READING BELOW
Recommended Videos
5. Be appreciative.
Whether they be your entourage, your guests, or your suppliers, be appreciative of whatever effort they have contributed to making one of the most important days of your life awesome. Your wedding is just a prelude of bigger things to come. Make sure that you and your loved ones enjoy it, as they, too, will continue being part of your journey to forever.
ADVERTISEMENT - CONTINUE READING BELOW
PHOTO: Pixabay
Comments
Load More Stories