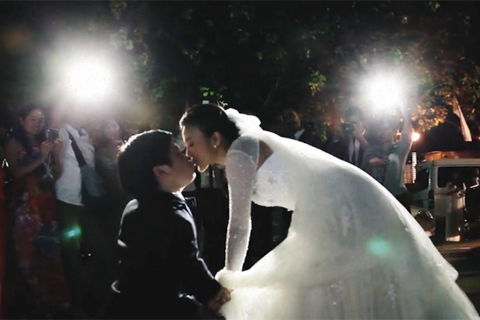 A lot of Filipino couples dream of having their wedding day told in a beautiful video by premier videographer Jason Magbanua. With Jason, a video has become more than a documentation of the wedding day, but instead is a time capsules of sorts, with the couple's story unfolding with each frame.

Like an average couple, Mara and Elo Cruz (the couple in the video below) were already familiar with Jason's work before they had even planned to get married. Elo recalls a particular time when he and then-girlfriend Mara spent an entire afternoon just watching Jason's videos for other couples. He says, "[What I liked about Jason's work] was that it was simple and not too flashy, but it highlights the couple's love story." Mara and Elo were huge fans--needless to say, when it was already their turn to plan their wedding day, Jason was at the top of their list.

ADVERTISEMENT - CONTINUE READING BELOW
CONTINUE READING BELOW
Recommended Videos
While Mara and Elo went through the same preparations that any typical couple would, the two were especially particular about their wedding video. Elo, who is with dwarfism, admits that he was skeptical about being in front of the camera. "Takot akong magpakuha ng video. I didn't want Jason to focus on my special needs," he shares.

On the big day, however, Jason and his team reassured the nervous groom, and proved to be a breeze to work with. Elo narrates, "They didn't ask me to do anything out of the ordinary. They seemed to be happy to be working for us, and they were doing what was above and beyond what they were supposed to do."
Fear wasn't the only thing thrown out the window--all of Elo's preconceived ideas for the video also took a backseat at the last minute. "I wanted a specific song, but Jason put in another one," he remembers. He and Mara had wanted a light and upbeat video; they got the exact opposite, which turned out to be a wonderful surprise. Instead of focusing on Elo's state, the video also showcased the love from the couple's families and friends. "Jason won't do the video just because he has to. Pag-iisipan niya at ilalagay niya ang puso niya. Ang nangyari sa video, para kang bisita sa kasal kapag pinanood mo," Elo says.

ADVERTISEMENT - CONTINUE READING BELOW
Elo admits that things could've gone differently--that his and Mara's unusual predicament could've been material for a campy output in the hands of another videographer. However, Jason's video showed that regardless of the circumstances, they were just like any couple who are so in love.

These days, it's a regular occurrence for Mara and Elo to be recognized when they go out. They have somehow gotten used to the attention. Says Elo, "The scale of the video is surprising, but I believe that everything has a purpose. Perhaps our purpose was to inspire in a way that's so unexpected, and that gave more meaning to my and Mara's love story."
See Elo and Mara's love story unfold in the video by Jason Magbanua below!

ADVERTISEMENT - CONTINUE READING BELOW
Comments
Load More Stories