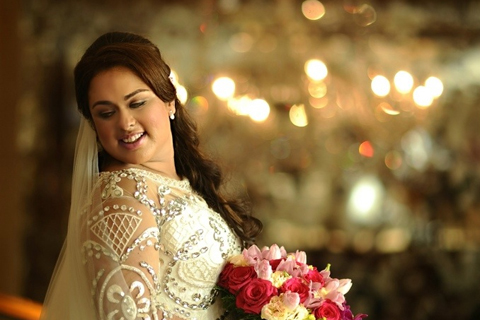 A bride's greatest wish is to be the most beautiful woman on her wedding day. And for brides planning their wedding from abroad, getting ready for the big day requires extra effort in finding a professional makeup artist they can fully rely on. High definition makeup specialist Gio Flores goes beyond the call of duty to calm the nerves of an overseas bride.
When dealing with overseas brides, Gio makes sure to respond to their queries and concerns promptly through email, and adjust his schedule accordingly a personal meeting for a trial makeup session and consultation prior to the day of the wedding. With his professionalism and cosmetic prowess, Gio proves to his overseas clients that he is truly worthy of their trust.
One of Gio's highly satisfied overseas brides is Keshia Sakhawoth, who considers choosing Gio Flores as her makeup artist as the best decision she ever made. Read her testimonial below to see how Gio Flores turned her to a radiant bride on her big day:
ADVERTISEMENT - CONTINUE READING BELOW
"Out of all the suppliers I had booked for our destination wedding, Gio Flores was by far the most honest, diligent, flexible, loveliest and easiest to deal with. Planning our wedding without a planner was difficult from Australia, and it was refreshing to deal with someone who was readily available and so responsive.
CONTINUE READING BELOW
Recommended Videos
Upon booking Gio, I was hesitant as his services were not referred to me by anyone. I looked through Gio's work and showed my friends and family. We all agreed that his talent as a makeup artist was impressive. Although I was hesitant to book him from abroad before even meeting, Gio instilled trust in me that he would deliver the best service on my big day. Of course, Gio delivered more than what was expected.
Only two days before our wedding, Gio was able to fit me into both our busy schedules for a trial. I had a flawed face, from deep acne scarring to the odd pimple popping up due to wedding stress. Gio was able to identify my problem areas and referred me for a facial cleansing treatment, which made me glow on the wedding day. If it weren't for this recommendation during the trial, my face would not have turned out as flawless as it did.
ADVERTISEMENT - CONTINUE READING BELOW
I loved that Gio was also able to provide the threading service during my trial. As a busy bride, it was difficult to get to any beauty appointments, and I loved that he was able to provide me with a through facial threading treatment. After leaving every detail of my hair and makeup to Gio's hands, I made the perfect decision. He seemed to know exactly what I needed and accentuated my features, making me look my most beautiful.
Gio's service was impeccable! I really appreciated the touch-up before the reception started, and really enjoyed working with such a talented and humble personality. After receiving my wedding photos, along with my dress, my hair and makeup received the most compliments.
From the moment I sat in his chair, Gio worked his magic, and honestly made me feel the most beautiful I have ever felt. I cannot thank him enough for his work and being so accommodating."
ADVERTISEMENT - CONTINUE READING BELOW
Launch the gallery below to see how Gio transformed Keshia to a radiantly beautiful bride.
Comments
Load More Stories