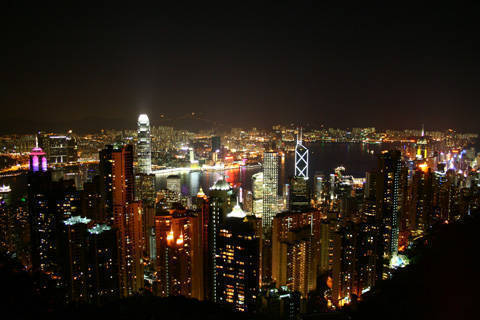 Hong Kong offers a great mix of the old and the new, and on your honeymoon, take what you can from this popular destination. Maximize your honeymoon by exploring three islands.
1. Lantau Island
Live your fantasy honeymoon as you explore the park's seven themes with your prince in tow. At night, the park bids goodbye through a fantastic fireworks show by Sleeping Beauty's castle.
Two nearby hotels may complete your magical honeymoon. The Hong Kong Disneyland Hotel's spacious rooms adopt a Victorian theme. Rooms at Disney's Hollywood Hotel are more affordable-better for your honeymoon budget, plus your husband would love their vintage cars collection.
A great way to see Hong Kong on your honeymoon is through the Ngong Ping 360 Experience, which is an exhilarating cable car ride. Nothing beats seeing the islands while you're suspended hundreds of feet above the ground. A roundtrip ride costs about HK$96, but for your honeymoon, you could shell out extra for a private cable car.
The Tian Tan Buddha (or The Big Buddha) stands at 112 feet, and is among the collection of large Buddha statues here. Even if you don't follow Buddhism, you can still seek enlightenment on your honeymoon by visiting this spot. Climbing to the top of the compound affords you with a great view-not bad for a free attraction.
2. Hong Kong Island
Being honeymooners does not mean you can't act like kids. The Ocean Park is your atypical amusement park. You can enjoy the exciting rides, but also see cool animal shows. You may also want to experience out another novelty here: ride the world's second longest outdoor elevator.
If your husband is a sucker for action films, take him to the Avenue of the Stars in Victoria Harbour, the Asian version of the Hollywood Walk of Fame dedicated to Chinese actors like Bruce Lee and Jacky Chan, and director Wong Kar Wai. At night, watch A Symphony of Lights from the banks, or through the harbor cruise. The spectacle could spark romance in your honeymoon.
The 120-year-old Peak Tram takes you to The Peak, which gives you a breathtaking view of the city. Photographers will offer to take your photo with the city lights as your backdrop; this could be a good honeymoon souvenir. You'll also find shops, restaurants, and Madame Tussaud's Wax Museum at the The Peak Tower.
3. Kowloon Island
Getting souvenirs for your new home is the perfect excuse to shop on your honeymoon. Head to Mong Kok-a top shopping district for locals and tourists. Each street houses a specialty; it's like an outdoor department store. If your husband is not much of a shopper, he might change his mind when he sees Fa Yuen Street, which is dedicated to electronics and books.
If shopping in a mall is more your thing, check out the Langham Place Mall, which features 15 floors of retail shops. When you're all spent, check in at the posh Langham Place Hotel for your honeymoon. The five-star hotel's amenities include a spa and in-room plasma TVs-perfect for honeymooners.
Photo source: sxc.hu

Comments
Load More Stories