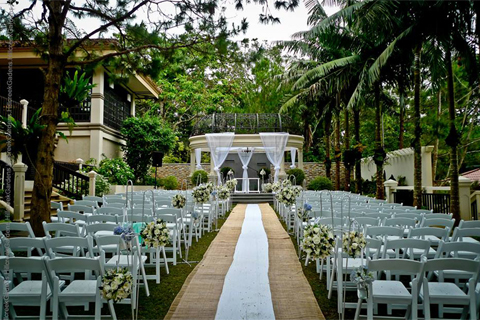 For a memorable destination wedding, you need to find a venue that offers more than an event space for your celebration. Picking a space with amenities for leisurely activities will allow your guests to have fun and maximize their trip to your chosen destination.
HillCreek Gardens Tagaytay opens its doors to marrying couples looking to hold their wedding in a garden setting. An hour's drive from the busy city, this events venue has facilities that can accommodate guests' hobbies and favorite pastimes-so you can arrange for festivities even before or after your wedding day.
Apart from offering indoor and outdoor pavilions, and comprehensive banquet services, HillCreek Gardens Tagaytay now has modern amenities to keep couples and guests entertained while staying within their compound. Among their new additions are their well-appointed hotel-type rooms, the swimming pool, a salon, and their rustic spa, which offers a relaxing experience like no other.
This breathtaking hideaway caters to couples' and their guests' every need. With the new improvements in their lush location, everyone's guaranteed to have a grand time.
For more information on HillCreek Gardens Tagaytay, click here.

Comments
Load More Stories