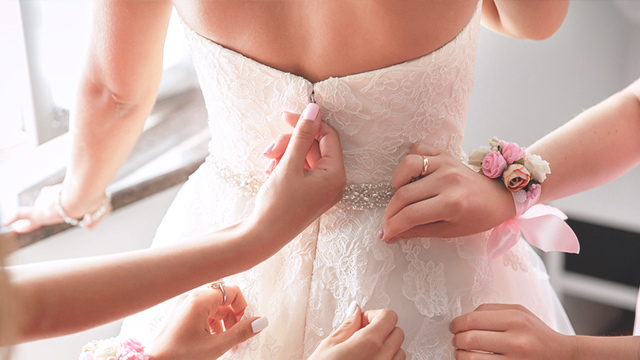 We at FN have talked about wedding preps across the board, from choosing the right venue, staying within your budget, up until you move into your first home as a couple.
We've also talked about choosing a dress that fits your personality, beauty rituals to follow weeks, even days, before your wedding, and celeb-approved makeup looks to cop.
But one thing that's important to remember, however, is that a wedding is just the beginning of the next chapter of your life; and while it's okay to want to look your best on your big day, your health should always be your number one priority. After all, you won't be able to be a good partner if you're not in tip-top shape. (Vowing to stay together 'in sickness and in health' doesn't mean you can be reckless.)
As a Cornell University study featured on Refinery29.com notes, "'Most women engaged-to-be-married idealize a wedding weight much lighter than their current weight,' commented co-author Lori Neighbors, PhD. 70 percent of women in the study said they wanted to lose weight (ideally, 23 pounds, on average), while 21 percent said they wanted to prevent weight gain."
ADVERTISEMENT - CONTINUE READING BELOW
Instead of working to lose as much weight as possible for one day just to fit into a dress or to look good in photos, try instead to make healthy lifestyle changes you can practice together as a couple. Here's why:
Unless you're eating healthy, nutrient deficiencies can show in your skin
According to a feature on Harper's Bazaar UK, "If you're cutting out certain food groups, in the longer term it's possible that dieting will show on your face—and not in a nice way."
FN TIP: If you want to have healthy glowing skin, for your wedding, one healthy way to do it is to eat fruits and vegetables grown organically (so they're natural and pesticide-free) like apples, celery, cherries, grapes, lettuce, nectarines, peaches, pears, peppers, potatoes, spinach, and strawberries.
Crash dieting can slow the body's metabolism and cause constipation
Instead of restricting food, look to make changes to the diet to help with your gut health. According to Healthline, "Reducing the amount of processed, high-sugar, and high-fat foods that you eat can contribute to better gut health. Additionally, eating plenty of plant-based foods and lean protein can positively impact your gut. A diet high in fiber has been shown to contribute tremendously to a healthy gut microbiome."
When you stop exercising abruptly after the wedding, your mood changes and you could experience withdrawal
If you're already active walking 10,000 steps a day, or if you have a gym you go to three to five times a week, then it's okay if you want to amp up your routine a bit months before the big day. 
Now, if you're stagnant and constantly sitting in an office cube, it's best to take it slow and don't overexert yourself.
What you need to watch out for is quitting exercise abruptly after your wedding. For within a few weeks of stopping regular workouts, "you might start to lose stamina, flexibility and energy." (via Livestrong)
Again, this is where it's a good idea to pursue healthy activities as a couple so you keep on going until after the wedding. Win-win! 
FN TIP: If you get bored easily or if you get too sore from doing the same exercises, try to do some cross-training like cycling, calisthenics, Pilates, or power walking. The more diverse, the better for your muscles.
RELATED: Nutritionist Answers Pressing Concerns About Weight Loss in Your 30s 
Load More Stories