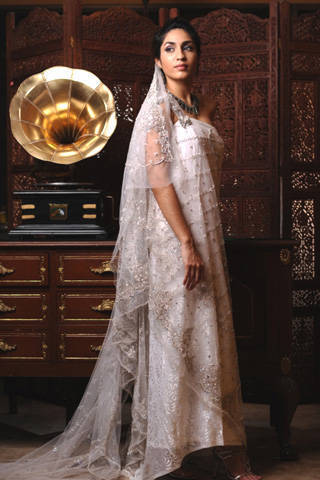 Having a modern wedding doesn't mean you have to completely do away with traditional elements. There are many reasons to want to integrate traditional details in your wedding: you may have cultural roots you are proud of that you want to highlight, or you may be fascinated by the history and style of a particular country. If this is the case, you can still incorporate classic elements into your wedding details, and one of the stronger statements you can make is through your wedding gown.
For example, traditional Indian weddings are large and colorful affairs, and there are ways of incorporating elements from traditional Indian weddings into a Philippine wedding. One way to do this is to wear a modern bridal gown with an Indian twist. We sat down with Suman Gogna of Gifts of the Maharani and she told us about crafting modern gowns inspired by the traditional fabrics of Indian bridal attire.
ADVERTISEMENT - CONTINUE READING BELOW
"Traditional Indian wedding gowns are commonly worn in the style of a saree--7 yards of fabric that is wrapped and draped around the body, or a lehengga--a three-piece gown consisted of a blouse, long skirt and a shawl that is draped on the body," Suman explains. Usually, these garments are made of fabrics such as brocade, pure silk, crepe, or silk tulle, and are heavily embellished with colorful beads and rhinestones strung on fine wire.
White is usually the color for brides in the Philippines and in Western countries, but Indian brides wear bright colors like red, fuchsia, and coral.

Aside from using sarees, lace, fine silks, and chiffon in shades of white, one way Gifts of the Maharani puts a modern spin on bridal gowns is by incorporating intricate beadwork and embroidery, and using exclusive Indian fabrics that cannot be found on the local market.
 "It's really in the orchestration of the fabrics used," Suman shares. "Our intricately embellished Indian fabrics are muted by the mix of satin, chiffon, or organza. They are blended with modern flair to create our sophisticated designs. The styles are simple and classic elegant but the fabric makes it rich and unique, making any bride stand out in one of our designs."
ADVERTISEMENT - CONTINUE READING BELOW
Part of Suman's process of making a unique Gifts of the Maharani gown is getting to know the client. "We personally meet the client at our studio and talk to her first to understand her personality, way of dressing and ideas she would want integrated into her gown," Suman tells us. "Then my in-house designer and I give her our ideas based on her preferences. We then move on to the sketching where we come up with options for styles that suit her taste, body-type, [and] the look she is going for on her special day." Creating one of their gowns usually takes three to four months, which gives Suman and her in-house designer enough time to get to know their clients and import special fabric, if the design calls for it.
Even with the exclusive fabric and intricate embellishments, a gown using luxurious Indian fabric and intricate embellishments can be just as affordable as other wedding gowns. "The range of our designs cost P35,000 onwards," Suman says. This already includes the fabric, construction, and other accessories such as the veil, pillow, chord, coins, and garter.
ADVERTISEMENT - CONTINUE READING BELOW
Including traditional Indian elements in your wedding attire doesn't mean you have to forego wearing a modern wedding gown. Fabrics, beadwork, and embroidery can make a very big difference in the way your bridal gown looks, and the careful planning it takes to incorporate these subtle details into your wedding gown will make it all the more special.
Recommended Videos
Comments
Load More Stories