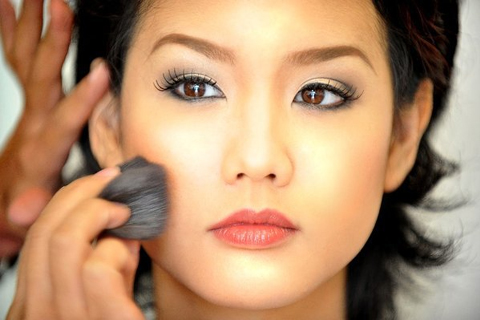 On her wedding day, a bride wants to possess a kind of beauty that mirrors the bliss she feels. Her flawless face will convey her every emotion, and it is this timeless elegance that will be captured in photographs.
Gold Magtoto gifts brides with photo-ready looks to help them feel confident in front of the camera on their special day. By defining the brides' assets and hiding their imperfections, Gold transforms them into their most beautiful versions on the most important day of their lives.
With her expertise, Gold knows how a bride can best highlight her beauty. Below, she shares tips for brides getting ready for their big day.
What is your favorite look for brides?
Most Pinay brides prefer a natural, classic look on their big day, so that's the look that I strive to deliver. I help them feel beautiful, confident, and happy through the strokes of my brush. I make sure that every bride looks her best for herself and her groom.
ADVERTISEMENT - CONTINUE READING BELOW
CONTINUE READING BELOW
Recommended Videos
How early should brides start preparing their skin for the wedding?
As soon as she says, "Yes, I'll marry you" to her groom. Skin care regimens work best when done regularly. The more consistent you are, the better results you'll see.
If the bride wishes to have laser, whitening, or undergo chemical peels, I suggest that she gives a minimum of six to eight months allowance before the wedding day to give time for broken tissue cells to heal and regenerate. A diamond peel should be done, at least three months prior to the big dau. Facials, on the other hand, should be done once or twice a month.
Incorporating both the skin treatment and a regular home skincare regimen will produce an even more satisfying result.
What steps should brides add to their beauty regimen to prep their skin before their wedding day? Are there any products that you would recommend to brides?
For me, the usual regimen should be comprised of cleansing, applying toner, exfoliating, and moisturizing. Brides should include a day moisturizer or a BB Cream with SPF in their regimen.
ADVERTISEMENT - CONTINUE READING BELOW
I always recommend Pond's Flawless White BB Cream to my busy brides because they get to skip a step by using this. It's a tinted moisturizer that has whitening and anti-aging benefits of a day cream. It's like putting on light makeup to even out your skin tone instantly--it's an all-in-one application. They even have a new, darker shade coming out soon, which I'm excited to add into my kit.
How should brides communicate their makeup preferences to their suppliers? Are you more comfortable with pegs?
Pegs are always helpful especially for brides who are not used to putting on makeup and therefore cannot express what they want in words. It serves as a reference point in determining if her desired output has been achieved. In addition, apart from it helping her have a clear vision of her desired look, it also gives me an insight on their personalities.
ADVERTISEMENT - CONTINUE READING BELOW
However, having pegs alone as basis may not be enough. Certain looks seen on magazines or online may not necessarily suit another person's features and facial shape, especially the eyes. That's why I strongly suggest a trial makeup session to validate or tweak a look. The same holds true for hairstyling.
What beauty essentials should brides have inside their bridal bag, and why?
Brides must have these essentials inside their purse: tissue, blotting paper, lipstick, mints, fan, and a compact powder. Use the tissue or an oil blotting paper to pat dry sweaty areas of your face, most especially your T-zone. Do not rub on the face lest you want to ruin your makeup.
Have a lipstick for quick touch ups especially at the reception, where there will be lots of eating and clinking of glasses to ask the couple to kiss.
The tension, excitement, and the gown can all cause a bride and her groom to sweat. A fan can help them both cool down.
ADVERTISEMENT - CONTINUE READING BELOW
Lastly, mints keep the bride and the groom's breaths fresh for their first kiss as husband and wife.
For more information on Gold Magtoto, click here.
Comments
Load More Stories