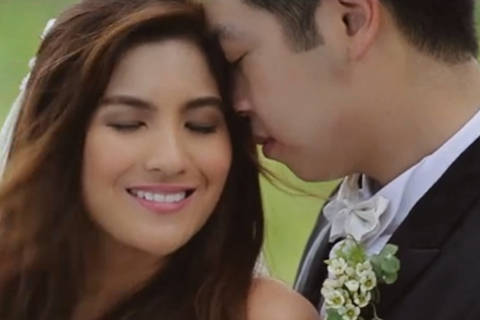 A three-minute wedding video can be among the most potent reminders of your big day's highlights, and surely, you want the output to perfectly capture the stories that made your big day special.

Premier wedding videographer Jason Magbanua has made a name in the industry with his wonderfully crafted same-day-edit videos that impact even on those who don't personally know the couple in the video. He shares tips on how you can help your videographer produce a beautiful wedding video.
Book your videographer because you believe in his work
Book your videographer because you like his style, and you have faith in him to deliver a beautiful video. That said, it would be a huge no-no to ask your videographer to copy another wedding videographer's style--he might end up thinking that you only booked him because you were unable to get your first choice. "You should always make your supplier feel that he is your first and only choice, because that will make for a great relationship of trust and hard work," says Jason.
ADVERTISEMENT - CONTINUE READING BELOW
Streamline your pegs--don't show too many
To help your videographer come up with a video that is uniquely yours, limit your video pegs--in fact, some videographers find it better if you have no peg at all. While pegs can sometimes help you articulate your ideas, pegs might also limit your supplier. Offers Jason, "Couples can tell me what they want conceptually, and I will think of something along those lines without copying something." If a particular video inspires you, your supplier can just use that as stylistic influence without having to copy the plot or other details.
CONTINUE READING BELOW
Recommended Videos
Share your love story with him
If you'll do away with video pegs, the best way to introduce yourself to your videographer is to tell him your love story--how you got together, and how he proposed. Doing so is a good way to establish rapport with him. Jason shares, "I ask the couple to write down how they got together. I ask, 'What are the most interesting things about this couple?' From there, I can see their personality, and I will draw plot points which I can use in the audio-visual presentation."

ADVERTISEMENT - CONTINUE READING BELOW
Foster a comfortable working environment
This is not to say that local wedding videographers are high-maintenance. Rather, they are regular people, too, who only want to do their job properly. Under this, among the important points that Jason stresses is making sure that you have shooting permits for venues with strict guidelines.

Most couples also provide food for their suppliers, but if you won't be doing so, tell your supplier so he can prepare ahead of time. For a destination wedding, you'll probably have to shoulder accommodations, airfare (if applicable), and out-of-town fees.

Let him enjoy creative freedom
After sharing your preferences with your videographer, give him space to do magic. When he has creative freedom, he is more inspired to give you a video that perfectly captures your story. "Just enjoy the wedding day. Let go of all the worries. Immerse yourself in all that's happening because it's a once-in-a-lifetime event. Just look in love, enjoy the day, and it will reflect in the footage," Jason says.

ADVERTISEMENT - CONTINUE READING BELOW
Jason also asks most of his couples to let him choose music for the video, since he makes sure to use licensed music for his work.

Remember to rent a good projector
You surely want to show the video in the proper way. Rent a projector with a good resolution, otherwise, a low-resolution one might not do justice to the wonderful output that you and your videographer have collaborated on.

At the end of the day, remember that your chosen videographer has your best interest in mind. By allowing him to do what he does best, you can look forward to watching your love story retold in a beautiful wedding video.
To contact Jason Magbanua about collaborating on your wedding video, click here.

Comments
Load More Stories