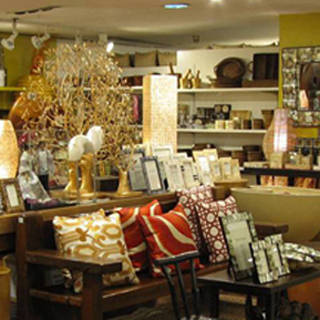 Newlyweds are typically given gifts that will be useful in their new home. Even before I got engaged, I already secretly looked forward to getting married precisely because it presented me with an opportunity to decorate and furnish my own home. The bridal registry has banished those days when couples would receive three oven toasters, five rice cookers and not a single cup or saucer. Couples are now able to inform those who wish to give gifts of their actual needs and preferences. Redundant gifts are avoided and a whole lot of money is saved. At the risk of stepping on some people's toes, I make this public declaration that I am not in favor of asking for purely useful gifts. For me, wedding gifts should be aspirational and moderately functional.

A gift is a surprise; an item we aspire for or hope to receive. People don't always ask for gifts that they need but they always ask for gifts that they want. "Aspirational" is a criterion because I want something that I would not ordinarily get for myself. I also don't want to take out the "gift-giving" element from the whole exercise. I still want my guests to have a little bit of connection with the gift they will give and an aspirational gift addresses this requirement. The rice cooker is my favourite example. I won't include it in my bridal registry because I am bound to get one anyway. An item I would put in my registry is a small crystal candy jar. I probably would not buy one because I have to buy a rice cooker instead... but boy, would it be awesome to receive one on my wedding day.


ADVERTISEMENT - CONTINUE READING BELOW

When I say moderately functional, I am actually referring to something that is not used on a daily basis, 24/7. This is because I want to be able to keep the gift longer and preserve its sentimental value. Again with the rice cooker: I won't ask for one because it is near impossible to keep a rice cooker forever. Sooner or later, it will break down. If a dear friend gives me a rice cooker, it would just break my heart to have to let it go after a couple of years. The candy jar is moderately functional because it is unlikely to break from wear (depending on the candy-eating habits of the couple, I suppose) but still serves a purpose.




JP and I agreed that we would get Rustan's to handle our bridal registry. That store gets our taste in retail. It has got an amazing selection of home and living items that are both unique and useful. With a little effort, it is possible to come up with a reasonable selection of gifts that we and our guests could enjoy.



Registries offered by Dimensione and Make Room are also great alternatives because of their good kitchen and storage selections. Dimensione even offers an online registry that allows your guests to search for your list online! Tempting as it is to sign up for all of these registries, I think that it is more prudent to just stick to one so as not to get confused or overwhelmed.

Everyone has heard of a bridal registry... but a honeymoon registry?

ADVERTISEMENT - CONTINUE READING BELOW

I didn't know of such an animal until I saw an article about it in one of my bridal magazines. A honeymoon registry is much like the bridal registry only guests are asked to choose among hotel room upgrades, day tours and candlelit dinners to gift to the couple! It's a traveller's dream come true. JP and I really want to honeymoon in Europe. Our plan is to get a five-country Eurail Pass and just hop on and off the trains over a course of three weeks.

I wasted no time and created a honeymoon registry at Honeymoon Wishes.



Reading the fine print, however, made me reconsider signing up for the online service. Honeymoon registries like Honeymoon Wishes impose a surcharge on "purchases" which will be shouldered either by the couple or the gift-giver. While it is understandable why they would charge such a fee, I think that it is an unnecessary cost. This is why I decided to DIY our honeymoon registry. I have compiled a list of the "items" that we would need to make our dream honeymoon come true. I plan to ask a travel agency to help me cost out these items and peg a price on each one. The wish list will be made available to guests who wish to consider it (probably via e-mail or a blog/website). Orders will be taken by a registry manager and purchased items will be delivered to us after the wedding. This actually sounds like a promising business model that I think I will definitely explore after our wedding.

ADVERTISEMENT - CONTINUE READING BELOW

I just love the Filipino expression "lumagay sa tahimik." The closest translation that I can think of is "to settle down." Whether stated in Filipino or in English, people often associate marriage with settling down in a new house. A bridal registry is an ideal tool that can help newlyweds either jump-start or decorate their new nests. These days, however, there are no longer any hard and fast rules on wedding gift-giving. With couples becoming more and more determined to express their unique needs and preferences, the modern-day registry is but a collection of things that would not only furnish an actual house but also bring happiness to a new home.
Load More Stories