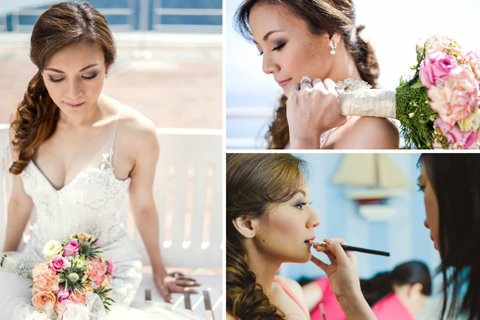 Next to her wedding gown, her makeup is the most beautiful thing the bride wears on her wedding day. It keeps her feeling beautiful and confident, as she takes on a new and important journey in her life.
Iris Lee is a professional makeup artist who offers stunning transformations to brides on their wedding day. She helps brides look and feel pretty using her precise makeup application skills and keen eye for detail.
Iris specializes in beautifying the Asian bride. She shares, "Flawless foundation, defined eyes, and soft hues on the cheeks and lips, for me, is the best look for Asian brides. It's my principal rule to find the right shade of foundation, for it's the key to having a flawless face. I also use eyeliner to complement and define the bride's unique eye shape. For her cheeks, on the other hand, I use soft hues such as pinks or a shade of peach with warm undertones to make the skin look fresher and more youthful."
In every wedding, her goal is simple--it's to give her bride the look that best suits her. "My favorite look for brides has always been dark eyes with neutral lips or neutral eyes paired with dark or bold lips. The perfect balance between the eyes and lips makes the bride look effortlessly beautiful without making her look too made up."
Iris also believes that there's a perfect look for every occasion, celebrated at any time of the day. Be it a day wedding or a night wedding, she knows how to doll up a bride to keep her looking beautiful all throughout the affair. She tells brides, "Find a makeup artist who understands color harmonies, face shapes, and skin types and tones. Every face is unique; hence, there's no standard makeup style for brides. So as one, it's your responsibility to research and choose a hair and makeup artist who can give you the wedding look you desire. After all, you'll be photographed a lot on your wedding day, and you would want to look beautiful with every click of the shutter."

ADVERTISEMENT - CONTINUE READING BELOW
Comments
Load More Stories