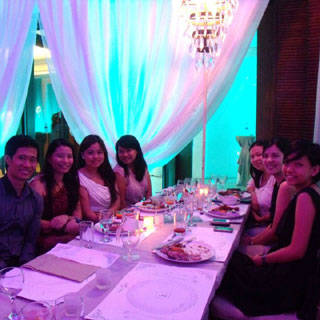 February turned out to be a busy, busy month for the BridalBook Team--what with the usual writing assignments coupled with events and photo shoots (and our 365th Featured Wedding), we had a schedule that was bursting at the seams. That isn't to say that we didn't have fun, though. We had a super month--and the pictures below prove it!
One of the month's highlights was Kaye Cunanan's annual thanksgiving dinner for K. by Cunanan Catering. The post-Valentine's Day event featured yummy food (of course!) and great music. The dinner brought back memories of BridalBook's first anniversary event at La Mesa Ecopark, since we feasted on K. by Cunanan's sumptuous fare while we listened to Johnoy Danao sing live.


The day after the K. by Cunanan dinner, Iko, Keisha, and I went to the Kanebo Philippines launch, where they introduced new products from their Lunasol and Impress lines.
ADVERTISEMENT - CONTINUE READING BELOW

February also proved that we could very well mix business with pleasure. We had shoots that entailed extra effort, but we had a great time with them. We're keeping most of the photos under wraps (you'll see them in our features soon), but I'm sure it wouldn't hurt if I shared our fave photo from our last shoot.


Our schedule for March is also going to be packed, but we're not complaining--if we'll have as much fun as we did in February, I think we'll be okay.
--Kristy
gloweddinglow! :D

Comments
Load More Stories