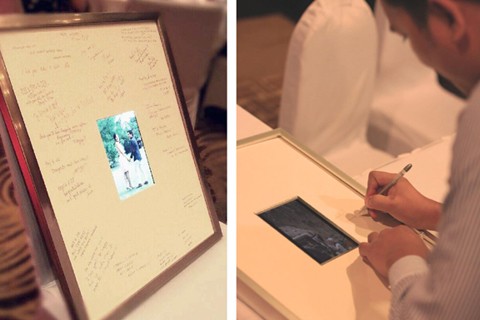 On your big day, the best memories to cherish are the heartfelt words that your family and friends wished for you and your husband. Traditionally, a guest book is passed around at the reception so guests may leave their messages for you. However, Frame Up Display introduces a new way to display your engagement pictures through their signature frames.
Frame Up Display's digital displays will surely give your wedding a modern twist. After your guests write their sweet messages of love on the screen, they may also browse through your memorable engagement photos.
The Signature Frame Package costs PhP7,000, includes the five-hour use of a 42-inch TV frame to host your guests' digital messages and display your sweet engagement photos. You'll also enjoy free delivery and set-up at your reception venue. On the other hand, Frame Up Display also offers a package at PhP6,000 for a 32-inch TV frame.
With Frame Up Display's Signature Frames, your wedding will surely be unique and different from the rest.
Comments
Load More Stories