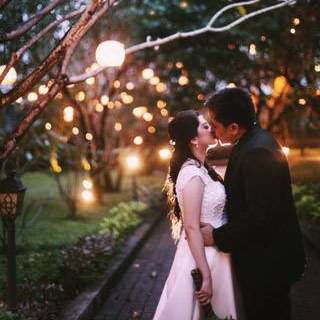 M and Chris, the creative forces behind Flickerhappy Studio, both point to one thing when talking about their beginnings: a Sunday newspaper ad looking for junior graphic artists. With ample backgrounds in photography and graphic design, they both decided to get into the wedding industry.
Both of them also started by editing photos and designing albums. Eventually, they became freelance artists, but the desire to make the craft their own was too strong. For M and Chris, the pull to hold a camera and capture images using their own creative personalities--not to mention the realization that they needed to save up for their gear--lured them back into the game. In 2009, they put up Flickherhappy Studio to the delight of couples everywhere.
It's no question that both pioneers of Flickerhappy enjoy their work immensely, even describing the wedding industry as amazing. For M and Chris, not only did it seem as though the industry chose them; it also seems to be the best field for wedding photographers who also want to make art for themselves.
ADVERTISEMENT - CONTINUE READING BELOW
But beyond the desire to produce photographs that add to the essence of their subjects, they also admit that covering weddings is a mind-blowing and challenging experience. According to them, all the colors, energy, joy, laughter, and tears combine to inspire them. More importantly, M and Chris never forget that a job well done isn't complete without the discipline and dedication they put into their work.
For these two, a brainstorming session, a hearty breakfast, and prayers complete the preparation for a prenuptial shoot or wedding coverage. The photographs are always a product of their teamwork with their clients. M and Chris say that "The different 'feel' comes from the reflection of the client's personality and we adapt to these, thus creating new images."  It's no wonder that photographs by Flickerhappy always feature subjects who give viewers a sense of heightened feelings and graceful motions.
To keep their skills updated, M and Chris continue to practice and gather inspiration from what they read and see. In doing so, they stay true to their vision and create photos which maintain their candid sense of fun, photojournalistic voyeurism that captures each moment perfectly.
ADVERTISEMENT - CONTINUE READING BELOW
Even before the camera flashes, it's clear that the future is bright for Flickerhappy Studio and its clients. For M and Chris, they hope only to get better in producing artistic images, fuelled by the drive to pursue what they believe in.
To see sample photos and learn more about Flickerhappy Studio, click here.

Comments
Load More Stories