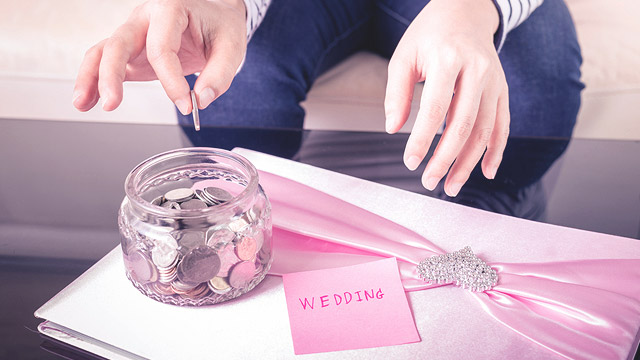 We all know how preparing for a wedding can be very physically—and financially—taxing. Once the ring is on your finger, the next thing on the agenda is funding.
In this installment of #FNAsks, we posted the question of whether or not you're willing to use your emergency funds to pay your suppliers, since while there are some ladies who have already set aside wedding savings even before the big question was asked, not many people are as secure or certain about their future.
ADVERTISEMENT - CONTINUE READING BELOW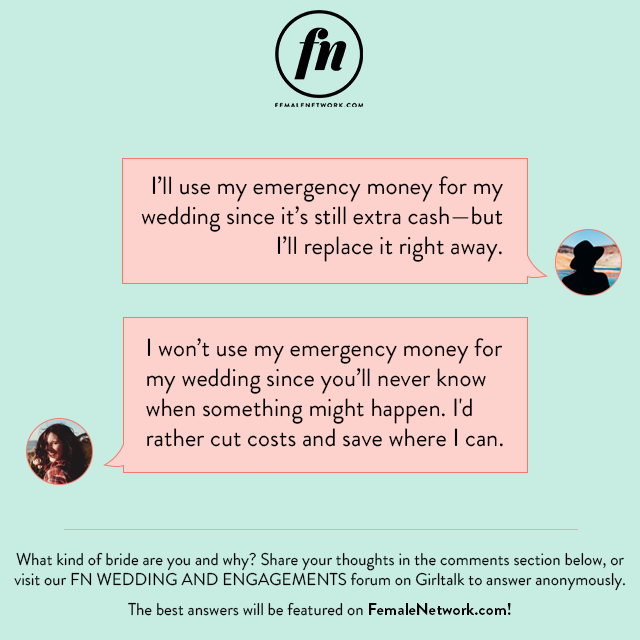 CONTINUE READING BELOW
Recommended Videos
Interestingly, our Girltalkers have a unanimous piece of advice: DON'T!
carms: "Weddings are planned events and as the [term] implies, it's an emergency fund and should never be used for a party or celebration. With a little research, there are always budget friendly options if finances are limited."
ADVERTISEMENT - CONTINUE READING BELOW
Hermione28: "You shouldn't. Really. After the wedding, for sure may mga regrets na sana hindi nalang gan'un kamahal kasi may cheaper options naman, etc. Pero minsan kasi talaga mapapaisip ka, na ang pera pwede kitain ulit, 'yung wedding, one-time, big-time event lang. Saka iba kasi 'yung feeling pag na-book mo 'yung gustong-gusto mong suppliers. Been there. So nasa preference pa rin ng couple. So basically, I would say do it, but don't say I didn't warn you."
Tischarmedlife: "Have enough money for your wedding expenses and stick to your budget. Your emergency fund should only be used for real 'emergencies.'"
Shinies: "Hindi emergency ang kasal."
Brandi: "Puwede naman mag-materialize pa rin 'yung dream wedding mo sa ibang paraan. 'Wag ipilit kung hindi naman kaya at mahihirapan kayo ni H2B. May mga kilala ako na kailangan ganito ganyan, para bang ang pamantayan na lang din kasi makipagsabayan sa social media. But then again, at the end of the day, hindi naman lahat ng kinakasal ng bongga, masaya after. 'Wag pahirapan ang sarili, ang mahalaga naman kayo ikakasal, hindi 'yung kung ano masasabi ng mga bisita o makakakita sa Facebook."
ADVERTISEMENT - CONTINUE READING BELOW
Shadow Angel: "No way! Emergency funds are for emergencies. The wedding you can adjust depending on your budget. Besides, napag-iipunan at napaplano kung gusto mo talaga ng bongga. Kung hindi kaya, 'wag ipilit--kaya nagkaka utang ang iba sa pagpapakasal or gusto makabawi sa gift ng sponsor over sa kaya lang ng couple."
So the next time you feel tempted to use your emergency money for your big day, think twice. If you have your own advice to give, please feel free to share it with your fellow brides at the GirlTalk Wedding and Engagements forum.
Load More Stories