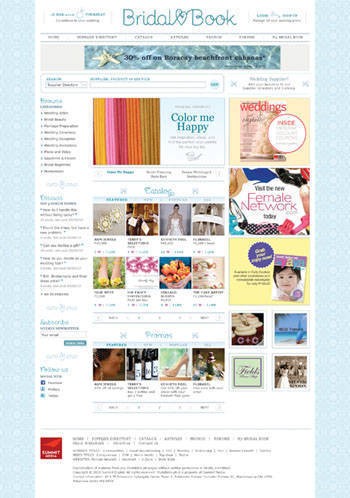 Getting ready for your wedding takes a whole lot of planning--and the wide range of ideas, choices, and suppliers available makes it that much harder! Like many brides-to-be planning their big day, you may have a wedding or events planner to help you out, or you may not--either way, we're sure you want to stay involved in the coordination and organization, from the initial stages of planning your overall theme, to settling on a church and reception venue, to choosing the menu and the mementoes. Add to all this your own concerns as a blushing bride and future wife--choosing (or designing!) your rings, and planning your honeymoon activities (though we're sure you know what you'll be spending most of your time on)--and you can get easily overwhelmed way before you have to walk down the aisle!
That's where BridalBook.ph comes in. BridalBook not only gives you a broad listing of all the suppliers and contacts you'll need to plan a successful (and affordable!) wedding, it also gives you inspiration and ideas through its many photo galleries of real weddings, with detailed photos of gowns, invitations, centerpieces, giveaways, floral arrangements, and the ceremonies themselves! The site is also geared towards soliciting content from its users, which means you can get honest evaluations and reviews from those who have been in the (wedding) trenches and know what things matter most to a bride-to-be. 
To cap everything off, BridalBook also has a collection of articles that provide quick tips and tricks on everything from getting the most out of your budget to booking your honeymoon flight.
ADVERTISEMENT - CONTINUE READING BELOW
Whether you're a bride-to-be, a veteran of your own wedding adventures, or just a wishful thinker visualizing plans and dreams for your own future match, check out BridalBook for bright ideas and the best resources for brides-to-be.
Comments
Load More Stories