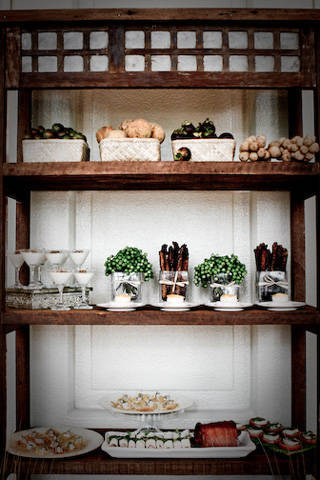 The Filipino culture--with its rich traditions and colorful celebrations--presents the perfect inspiration for special events such as weddings. While using banig, rattan balls, and capiz shells as accents easily communicate a Filipiniana-themed affair, Kaye Cunanan of K. by Cunanan Catering says that there are lots of other ways by which couples can channel a Filipino vibe. She shares three theme ideas for you to incorporate a sense of Pinoy pride in your wedding.
Fiesta Theme
Filipinos have a thing for big celebrations, especially fiestas, so why don't you fill your event with fun festivities worthy of a Pinoy fiesta? Kaye has several suggestions to make your party space merry. "Use vibrant colors. [Hang] banderitas as ceiling decor, and name tables [after] different Philippine festivals such as Maskara, Sinulog, and Panagbenga," shares Kaye.
For your table centerpieces, Kaye suggests adding fruits to floral arrangements. "Lanzones look like berries, and will look pretty when bunched up with flowers," explains Kaye. "Or use native materials like coconut shells or salakot in place of the usual flower vase," she adds.
ADVERTISEMENT - CONTINUE READING BELOW
Channeling a Filipino theme doesn't end with the décor.  Kaye suggests giving the usual candy buffet a twist by filling the bar with "Pinoy sweet delicacies from different provinces such as pastillas, turrones, meringue, piaya, and puto seco" to give your wedding a truly Pinoy taste.
Spanish-Filipiniana Theme
Intramuros' old-world charm carries an air of romance that's perfect for weddings. The walled city evokes memories of old Hispanic structures, horse-drawn carriage rides on cobblestone paths, and haranas under the moonlit sky.
To channel such an warm Spanish-Filipiniana vibe, Kaye suggests opting for either a bold red and black or a muted color palette comprised of nude tones--you can even go for an all-white motif! Dainty local flowers like azucena and baby's breath will complement the theme. For a touch of rustic romance, you can incorporate delicate details like lace, piña, and capiz into the decor. "Quiapo is the best place to shop for these," says Kaye.
In keeping with the Spanish-Filipiniana theme, Kaye suggests having specialties like cocido, callos, lengua, or paella a part of the menu. To put a yummy end to the meal, "pass around some tsokolate de batirol after dinner," Kaye adds.
Modern Filipiniana
If you and your groom would like contemporary details for your wedding, you can have a modern Filipiniana theme that features on a mix of both old and new elements. "Go for a [Kenneth] Cobonpue or Budji Layug-inspired set-up," Kaye shares. To pull this off, you can "make use of bamboo or woven materials like rattan balls as part of the centerpiece," Kaye adds.
Filipino fusion dishes, like sisig taco wraps and kamote chips with smoked tanuige and horseradish, will allow you to bring a new spin to local cuisine. "Have a Pinoy pasta station with an array of local ingredients like tinapa or tawilis in olive oil, salted egg, chorizo, chicharron," adds Kaye. For cocktails, you can even serve street food presented in an artful manner to give your reception an element of surprise. Gourmet isaw, anyone?
ADVERTISEMENT - CONTINUE READING BELOW
Load More Stories