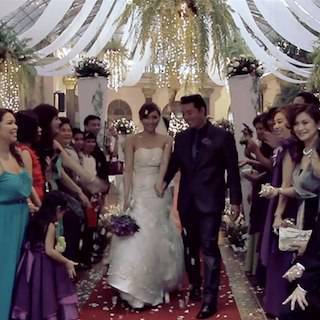 Mary and Anthony were both excited and happy on their wedding day, and so as the Blacktieproject team were shooting their same-day-edit wedding video, they suggested that they add a fun twist to the output.
Shares Anthony, "We chose A Thousand Years by Christina Perri because we liked the lyrics and melody. I liked it because it was solemn and would fit the occasion." However, when the videographers saw Mary's bubbly mood as they shot the clips, they suggested to incorporate another song in the video. The bride jokingly offered doing their own version of the viral track Call Me Maybe by Carly Rae Jepsen, and Blacktieproject willingly agreed.
With the couple's spontaneous and easy-going nature, the team was able to do a video that showed the day's tender moments and fun highlights as well. It helped that the couple had a good relationship with their suppliers. Says the groom, "Just have fun on your wedding and it's a bonus if your friends with the photographer. Never think of them as just being hired to do a work, think of them as your best buds."
ADVERTISEMENT - CONTINUE READING BELOW